Sundarban Holiday Packages: Are you searching to book sundarban tours at the most affordable package rates from Bengal Tour Plans' sundarban tour operators? Sundarban Package Tours enable visitors to experience the thrill of deep forest in the Ganges delta. Every year, almost 1,500 people book Sundarban trips to see the Royal Bengal Tiger as well as the spectacular coexistence of Gangetic waves and mangrove plants. According to the Tourism in Sundarban study, just 88 to 96 tigers remain in Sundarban. However, with Bengal Trip Plan's Sundarban tour package from Kolkata, you may expect to see fishing cats, leopard cats, flying foxes, Chital, and jungle cats in Sundarban, South 24 Parganas.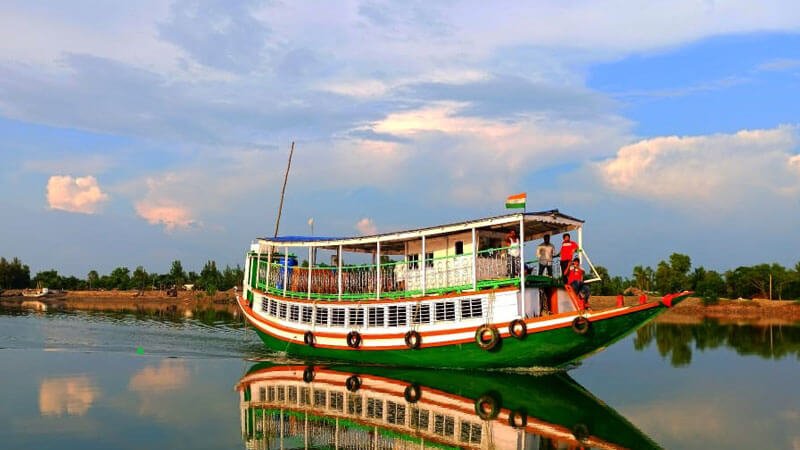 According to Sundarban tourism, WBDTC is the world's largest estuary forest, covering over 4,200 square kilometres. You will be pleased to learn that it has been added to the list of World Heritage Sites after being recognized by UNESCO.
BOOK THE BEST SUNDARBAN TOUR FROM OUR EXPERT SUNDARBAN TOUR OPERATORS.
To learn more about this natural wonder, call our Sundarban tour operator right away! You may see a variety of endangered animals on your Sundarban trip, from turtles to tigers. If you are fortunate, you may be able to see the wonderfully regal Sundarban tigers throughout your Sundarban trip 2 night 3 days2-night tour. Join us as we arrange the Sundarban tour to offer some rare sightseeing sites for a wonderful vacation.
Sundarban's Geographical Specification
Conduct a Kolkata to Sundarban excursion to experience the Sundarban Tiger Reserve, India's largest reserve. It is split into two halves, one in India and one in Bangladesh. When it comes to the geographical details of Sundarban National Park, consider the following variations:
• The Brahmaputra River
• The Ganges
• The Meghna
The linked network of various waterways makes a boat trip to Sundarban from Kolkata possible. The fertile soil has aided the region's transformation into a place of intensive agriculture.
Best time to plan Sundarban tour the from Kolkata
| | |
| --- | --- |
| Winter (November to February) | The temperature dips to about 9.2°C on winter Sundarban trips from Kolkata. During this cool season, animals come out to soak up the sun's rays, making it easier for travellers to travellers life. |
| Monsoon (June to October) | From June through October, the Sundarban package's forest experiences considerable rains. The principal method of transportation, the river, floods owing to severe rains. As a result, from Nov to March is the best time to book a Sundarban travel package from Kolkata. |
| Summer (March-May) | Sundarban tour from Kolkata has a humid climate virtually all year due to its closeness to the Bay of Bengal. During the summer, the temperature may reach 42°C. Most animals seek shelter throughout this season to avoid the blistering heat, making it difficult to notice them. |
How to reach Sundarban from Kolkata?
| | |
| --- | --- |
| By road | Drive to Canning (56 km) and then to Sonakhali to reach Sundarban by road. Otherwise, you can travel to Namkhana (100 km), Najat (92 km), or Raidighi (76 km). From there, you may take a Sundarban tour package boat to Sundarban. |
| By rail | You may take the Namkhana local or the Canning local from Sealdah Junction to Sundarban. Tourists may get access permits for Sundarban National Park tours at Canning, Bagna, and Sonakhali. Sundarban West entry permits may be obtained at Namkhana, Raidighi, and Canning. |
| By air | Sundarban's nearest airfield is Netaji Subhash Chandra Bose International Airport (109 miles). |
As a World Heritage Site, it is one of the most popular tourist destinations on the planet. However, if you've never been to Sundarban or haven't heard much about it, now is the time to learn everything there is to know.
Read More:
Why do you need to know about Sundarban?
Knowing about Sundarban teaches you about a location that has shown and continues to exhibit tremendous compassion and care for wild creatures. This is the location where UNESCO assisted in saving the Royal Bengal Tigers from extinction. Not just tigers, but also many other wild creatures and birds, now live here in peace.
You will be able to enjoy a spectacular boat trip, folk dancing, and many other enjoyable activities that you would expect to find in a natural setting such as Sundarban.
Let's know about the Package:
Sundarban Packages come in a range of sizes. You must select the finest one among them. The following are some of the Sundarban packages:
1 night 2 days
2 nights 3 nights
1 day tou1-days are some of the Sundarban packages available to you. You may contact one of the top travel agencies to assist you in selecting the ideal Sundarban vacation package.
Itinerary Of Sundarban Tours Package Plan By Royal Bengal Tourism
Greetings, Guest This is our standard itinerary, and most people have followed it. If you have any unique requests about this itinerary, please contact us through email. We can tailor this vacation to your specific needs. If you want to make it shorter or longer, or if you want to add other trips to your package, please let us know in your email and we will accommodate your request.
The itinerary:
Let us now discuss the Sundarban itinerary:
First, decide on the best Sundarban travel package for you. Now:
Drive to Sundarban and arrive around midday.
Hotel stay and relaxation
Sandeshkhali excursion
Tour of a bird sanctuary
Tour of the Tiger Reserve
Sixth. Forest Safari.
Boat ride, for example
These are some of the enjoyable activities available in Sundarban. However, if you are fortunate enough, you will be able to enjoy yourself much more. yourself
Purchase your ticket now:
Booking your ticket now will offer you the finest Sundarban Packages. So, don't put it off any longer; do it immediately.
What's Included in Sundarban Packages for Tourists?
Sundarban Sightseeing Tours, Tourist Places To Visit In Sundarban
Sundarban package tours with a Bengal tour plan take you to some off-the-beaten-path sites spread across this beautiful green delta. Let's have a look at the top tourist attractions in Kolkforthe a to Sundarban trip.
| | | |
| --- | --- | --- |
| Tourist Places | Famous For | Distance from Sundarban |
| Gosaba | In this small block, you can observe the lifestyle of locals in Sundarban. | 45.5 Km |
| Pakhiralay | Various kinds of birds. | 41.9 Km |
| Sajnekhali Watch Tower | Wild boars, Royal Bengal Tigers. | 41.2 Km |
| Sudhanyakhali Watch Tower | Animals come to the water tank situated nearby to their thirst. | 42.8 Km |
| Dobanki Watch Tower | Canopy Walk. | 44.3 Km |
| Bonobibi Bharani | Bonobibi Bharani – the goddess of the forest. | 19.3 KM |
| Sundar Khali | flora and fauna. | 22 KM |
| Gajikhali | Royal Bengal Tigers | 31.2 KM |
| Chora Gaji Khali | Royal Bengal Tiger | 16 KM |
| Deulbharani | Crocodiles, deer, and other wild animals. | 20.9 KM |
| Panmakhanihani | It is a confluence of five rivers, Icchamati, DurgShuklai, Shukla, BanabibidharHumorand Gumor. | 21.4 KM |
| Neti Dhopani Watch Tower | 400 years old Shiva Temple ruins. | 45.1 Km |
| Burirdubri Watch Tower | Wooden bridges situated cages mud cage. | 14.8 KM |
Gosaba: Gosaba is a stepping stone to Sundarban package tours, located in the Canning subdivision of South 24 Parganas in West Bengal. In this modest block, you can see how Sundarban residents live.
Pakhiralay: Pakhiralay is a beautiful island where the Sundarban tour package boat docks. If you have children in your group, the sight of so many birds will elicit applause.
Sajnekhali Watch Tower: Tour to Sundarban from Kolkata will take you to the Sajnekhali watchtower to experience a tranquil panoramic view of the jungle in the tour to Sundarban package. During your Kolkata to Sundarban tour, you will be able to see a variety of exotic species, including wild boars and the Royal Bengal Tigers.
Sudhanyakhali Watch Tower: The Sudhanyakhali watchtower is a secure location where you can easily see wildlife at Sundarban tour plan from canning. Animals flock to the neighbouring water tank to relieve their thirst. Permission and all requirements will be handled by com, Kolkata's Sundarban tour operator.
Dobanki Watch Tower: The Dobanki watch tower provides a one-of-a-kind way to appreciate the Canopy Walk. A visit to Sundarban package from Kolkata would allow you to see deer and kites from a height of roughly 20 feet above the ground. Another sight to cherish is the presence of a sweet water pond.
Bonobibi Bharani: Bonobibi Bharani, the protector of the Kolkata-Sundarban trip, is revered by both Hindus and Muslims. It is said that she bestows her blessings on everyone. You will be in a safe condition if you pray fervently.
Sundar Khali: It is obvious from the name that it is a fantastic destination for travellers on a Sundarban trip from Kolkata. The area is rich in vegetation and animals. In this location, you will experience nature's most deafening quiet. Sundar Khali is the perfect example of a trip that will let you truly appreciate the Sundarban tour 2 night 3 days package tour.
Gajikhali: Gajikhali is a popular stop on Sundarban excursions from Kolkata because of its unique natural beauty. The Royal Bengal Tigers visit to savour the taste of water. During the Sundarban package tour, you may get some beautiful photos with your camera. The stunning view of the vast river will soothe your spirit.
Chora Gaji Khali: If you wish to see a Royal Bengal Tiger on your Sundarban trip 3 night 4 days package tour, chora gaji Khali is the ideal location. During the day, tigers come here to bathe and relax. Take photos with your camera from the Sundarban tour package boat.
Deulbharani: Deulbharani in Sundarban tour 3 nights 4 days package trip will allow you to see crocodiles, deer, and other natural wildlife. Furthermore, Sundarban excursions from Kolkata allow you to experience nature's distinctive beauty and elegance in the finest way possible.
Pancha makhani: Pancha Makhani is a popular destination for Sundarban trip packages from Kolkata. It is formed by the confluence of five rivers: the Icchamati, the Durgaduyani, the Shukla, the Banabibidharini, and the Gumor. To view the breathtaking panoramic magnificence of this huge confluence, contact a Sundarban tour operator.
Neti Dhopani Watch Tower: Another major stop on the Sundarban trip is the Neti dhopani watchtower. 3-night/4 day trip package Explore the 400-year-old Shiva Temple remains at this location. To see this location, schedule a Sundarban trip.
Burirdubri Watch Tower: This is a must-see stop on the Sundarban trip. 3-night/4 day package vacation because you may enjoy wandering via the wooden bridges set within mud cages here. The fauna includes a variety of snails, crabs, and mollusks. To discover this lovely place, schedule a Sundarban trip.
Important things to carry in Sundarban tours and travels
• Camera • Binoculars • 2 pairs of shoes • 2 pairs of socks • Light-colored comfortable clothing • Medicine • Hat and sunglasses • Torch • Mosquito repellent
Royal Sundarban Tourism
Visit: https://tinyurl.com/y6smhoup
Contact: 7439965413 / 8584838109
 What's app link : https://tinyurl.com/yxtvhcs3
Email: info@royalsundarbantourism.com
Address: Tiger More, Gosaba, Pakhiralay, Pakhiralay Main road, District- 24 Parganas South, West Bengal 743370                          Map Link: https://tinyurl.com/4ayujcff