Sundhanyakhali Watch Tower: Sudhanyakhali Watch Tower is located in the Sundarbans Tiger Reserve's Sudhanyakhali camp. It is one of Sundarban's most well-known watchtowers. Tourists frequently visit the Sudhanyakhali Watch Tower because of its closeness to the Sajnekhali Watch Tower.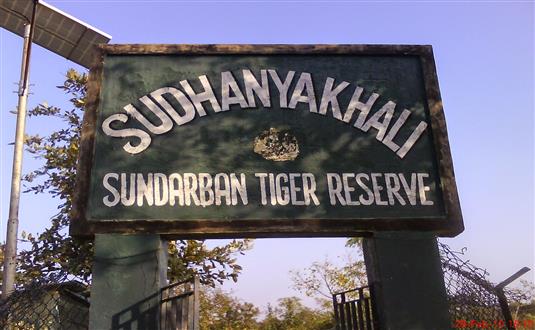 Even if you take the Sundarban Day Tour, you may see the Sudhanyakhali Watch Tower. It is always included in both the Sundarban 1N 2D trip and the Sundarban 2N 3D Tour package.
This tower provides the best views of the tigers. From the tower, one may also see a few reptiles and birds. This watch tower may also provide views of axis deer, monitor lizards, wild boars, and crocodiles. This watch tower can accommodate 25 people at a time. The authorities have created and maintained a tiny yet lovely botanical project comprised of many Mangrove species.
Wild animals come to sip water from a sweet water pond. There are viewing lines behind the pond. These observation lines are expanses of forest land devoid of vegetation that allow for distant sightings of animals.
The Sudhanyakhali Watchtower provides a panoramic view of the Sundarbans Tiger Reserve and the surrounding jungle. Nature and fauna may be enjoyed side by side here.
On the mud banks on the side of the steps going to Sudhanyakhali Camp, there are many colourful Fiddler Crabs and Hermit Crabs.
This area is also teeming with monkeys, which are used to stealing food from tourists but will normally leave them alone if they are cautious and do not bother them.
Frequently Asked Questions (FAQ) on Sudhanyakhali Watch Tower :
Q: Where is Sudhanyakhali Or Sudhanyakhali Watch Tower?
A: Sudhanyakhali is the name of a forest camp in West Bengal, India's Sundarbans Tiger Reserve. It is also a popular tourist destination due to the well-known Sudhanyakhali Watch Tower. It is located on an island and is accessible via a chartered boat or launch.
Q: Where are the Boat starting points for visiting Sudhanyakhali?
A: The Sundarbans Tiger Reserve includes several Entry Point Jetties. These are located in Canning, Sonakhali, Godhkhali, and Jharkhand. Boat services are only available from these jetties with prior and advanced booking. Q: Where can you hire a boat in advance to visit Sudhanyakhali?
A: There is no organized and regular boat rental service from the Entry Point jetties. You may arrange or hire boats in advance to visit the Sudhanyakhali Watch Tower by calling Boat Owners directly.
Q: Can one directly visit the Sudhanyakhali Watch Tower?
A: A guide and entry clearance is required to visit the Sudhanyakhali guard tower. The Sundarban Tiger Reserve officials grant entry permits from the Sajnakhali Eco Tourism Range. As a result, before entering Sudhanyakhali, one must first visit Sajnekhali.
Q: How long does it take to reach Sudhanyakhali Watch Tower?
A: It takes around 40 minutes to reach Sudhanyakhali by rented boat from Sajnekhali, depending on the location of your entry point jetty and subsequent visit to Sajnekhali to secure Entry Permissions.

Q: When Is The Best Time To Visit Sudhanyakhali?
A: The Sudhanyakhali Camp and Watch Tower are open all year save for the Tiger Census and for other reasons as announced in advance by the Forest Department. As a result, you may visit it almost all year.
This is a blog about an incredible trip to Sundarban's Sundhanyakhali watchtower. It had been our long-held desire to visit Sundarban. However, due to a variety of obstacles, we were unable to do so. This time, we took advantage of the opportunity and organized a one-day visit to Sundarban.
This is the trip itinerary:
• Begin early in the morning in Kolkata.
• Arrive in Sundarban late in the morning, about 10 a.m.
• Stay at a decent lodge, hotel, or houseboat.
• Rest and eat lunch
• A tour guide will accompany you on a tour of Sundarban.
• You arrive at Sundhanyakhali Watch Tower.
• Have fun while viewing birds and other creatures.
• Later, return to your lodging.
• Rest and eat dinner
• Sleep
• Return to Kolkata the next morning.
The above list will provide you with a thorough grasp of how to plan a one-day trip to Sundarban. This is incredible, but there are a few measures you must do before visiting Sundarban.
1. Contact a good tour guide:
This is one of the most critical steps you must do to locate a reputable tour guide and arrange your Sundarban 1 day tour effectively. If you travel to Sundarban without a guide, you will not be joyful; rather, you will be bored.
2. Pack some essentials:
Bring some basic items that you cannot live without in Sundarban. These necessities include your medicine, insect repellent, cotton clothing, no heavy clothing, adequate boots or shoes, sun protection, umbrellas, and so forth.
3. Plan early:
Many people make visits to Sundarban throughout the season, and you may not get a fair chance to book at that time, thus it is always advisable to reserve early and remain safe. Before beginning, resolve the financial issue.
Happy Journey:
This time, I wish you a very nice voyage to Sundarban. May you be fortunate and feel well.
Tour To Sundhanyakhali Watch Tower:
AC is on tour. AC, non-AC Luxury cabin, upmarket meal, knowledgeable tour guide, and, most importantly, a private bus. It is significant because it has 12 regular sites, a folk dance, a bus, a boat, room sanitization, and an AC and non-AC package.
Visit Sundarban and feel happier.
We have Sundarban Tour Packages every day
For Booking Of Best Sundarban Package( Starting from 2799/-)
Name: Dilip MAity
Organization: Royal Sundarban Tourism
Organisations Web link: https://royalsundarbantourism.com/
Contact: +917439965413 / 8584838109
Gpay / Phone pay : 9804049535
Email: info@royalsundarbantourism.comAddress: Tiger More, Gosaba, Pakhiralay, Pakhiralay Main road, District- 24 Parganas South, West Bengal 743370