Sundarbans park may be a park, biosphere reserve, and tiger reserve located in West Bengal. it's a serious part of the Sundarbans mangrove area on the delta formed by the conflux of the Ganga, Meghna and therefore the Brahmaputra rivers. It spans a neighbourhood of about 1330 square kilometres of mangrove forest land. a part of the park also falls under the Sundarbans Reserve Forest in Bangladesh. This park has existed since the 1900s and was named a UNESCO World Heritage Site in 1987. Let us know about the Sundarbans.
The Sundarbans forest, which stretches over 10,000 square kilometres, is shared by India and Bangladesh. India accounts for around 4,262 km2 of the entire forest area, with Bangladesh accounting for the remainder. The Sundarbans National Park is the Indian portion of the Sundarbans forest.
The national park, which is known for having the world's largest mangrove forest, offers everything to lure environment and animal enthusiasts both. From deep mangrove forests to various river channels crisscrossing the forest and gorgeous estuaries, as well as a significant number of Royal Bengal Tigers and other wild creatures, the entire forest is an incredible environment that should be seen at least once in one's life. This park, which has been designated as a UNESCO World Heritage Site, has a unique charm that draws visitors to the area.
The Sundarbans National Park is located on the outskirts of the 24 Paraganas district in West Bengal, India's easternmost state. The Sundarbans forest takes its name from a mangrove plant called Sundari (Heritiera Minor).
The Sundarbans forest is found in the world's biggest delta, which is created by the Ganges, Brahmaputra, and Meghna rivers. The Sundarbans National Park covers around 2585 square kilometres of the Indian Sundarbans area, making it India's biggest National Park and Tiger Reserve. Around 2,125 square kilometres of the 4,262 square kilometres of the Sundarbans are covered by mangrove forest, while the other 2,125 square kilometres are made up of aquatic bodies.

The Sundarbans is home to a variety of exotic flora and fauna notable among them being salt-water crocodiles and therefore the Bengal tiger. Sundarbans is the largest reserve of Bengal Tigers. The park may be a living and breathing example of India's rich ecosystem and a tour through the Sundarban forest will offer you a glimpse of the vast sort of endangered also as exotic species of animals that inhabit here. There are so many things you can know about the Sundarbans.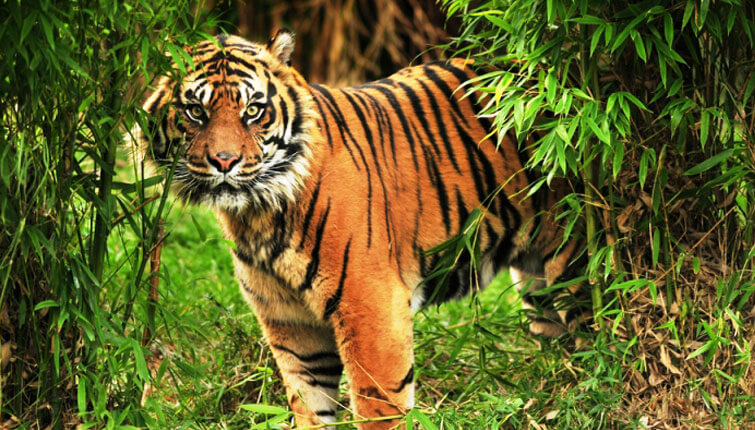 Best Time to go to Sundarbans
Winters are the simplest months which is why September to March is the best time to go to the Sundarbans. The weather is superb and aside from seeing the animals, you'll also spot a couple of migratory birds. While the monsoons with their abundant rains prevent visitors from travelling, the sweltering summers keep the locals concealed deep within the forest. who visit this place. There are so many things you can know about the Sundarbans.
How to Reach the Sundarban Forest from Kolkata?
The Sundarbans forest is one of the highest spots for excursions and safaris both from Dhaka also as Kolkata because it is shared between both countries. Here's an inventory of the way to reach Sundarbans park via air, train, buses and other modes. Let's know more about the Sundarbans.
The closest airport to Sundarbans is Netaji Subhash Chandra Bose Airport in Kolkata, which is approximately 129 kilometres away. The mangrove forest is a 3-hour cab trip away.
Reaching Sundarbans by train: Sealdah railroad station is the nearest station to Sundarbans as there's no direct train here. you'll need to reach Canning from Kolkata (65kms) then take any of the local trains from Canning to Sundarbans. We can check more details about the Sundarbans.
Reaching Sundarbans by road: From Kolkata, you'll need to reach either Namkahan (105kms), Sonakhali (100kms), Najat (92kms) or Raidighi (76 km) then further book a motorboat ride from any of those points to the Sundarbans.
Sundarbans Forest hours: Monday through Friday, the forest is open from 8:00 AM to 6:00 PM, and on Saturdays, it is open from 10:00 AM to 4:00 PM. Sunday is closed.
About the Sundarbans Details Blogs
Sundarban package details blog
Sundarban Tourism Details blog
Sundarban Weather & View
Sundarban forest witnesses largely varying weather within the summers, monsoons and winters. During the summer, the average temperature may reach 42°C, but during the monsoon, it fluctuates between 25°C and 35°C. the simplest time, however, is the winters when the temperatures range between 10°C and 30°C, making it the right time to explore this amazing Sundarban park. There are so many things you can know ABOUT THE SUNDARBANS PARK
You can also enjoy a fantastic view of the park from the Netidhopani Watchtower. it's strategically located within the park giving stunning views of the whole Sundarbans park. From certain angles of the towers, you'll even get to look at the Bengal tigers.
Boat Safari
A Boat safari within the Sundarban park is something every tourist and nature enthusiast must experience. Boat rides begin from 8:00 AM and continue till 4:00 PM. During the height season, boating is extended till 6:00 PM. Post that point, no boats are allowed to enter the forest. you'll enjoy an exquisite ride down the varied tributaries and watch the birds, enjoy nature and, if you're lucky, spot a Bengal tiger or a migratory bird.
Rich Flora and Fauna
The Sundarbans is the largest reserve for the Sundari trees and therefore the Bengal tigers. The forest cover is rich and dense with mangroves. it's home to innumerable animals and birds like spotted deer, water hens, Pacific ridley turtle, King Crabs, wild boars, salt-water crocodiles, giant lizards, alligators, and jungle fowls. If you venture near the waters within Bangladesh a part of this forest cover, you'll also witness the Indo-Pacific bottlenose dolphins and electric rays. There are so many things you can know ABOUT THE SUNDARBANS PARK
Bird Watching
If you visit Sundarban park within the months of January and February, you would possibly be lucky enough to identify migratory birds. Each year, thanks to the favourable climate, thousands of birds from distant places fly for miles to urge to the present forest reserve. At the park, you'll spot eastern knots, Caspian terns, marsh harriers, wood sandpipers and many other species of birds. There are so many more things you can know ABOUT THE SUNDARBANS PARK
For a way Needed Break
The wilderness and vastness of this incredibly beautiful and rich mangrove area are often experienced only you visit it face to face. distant from the chaos of the town, you get an opportunity to be one with nature and witness all the weather in their natural abode. cover a lavish 1330 km2 the Sundarbans park is the best getaway from Kolkata that you simply can visit. within the park, there are various islands, rivers and open spaces that are ideal for spending time in complete peace and tranquillity.
Accommodation is out there at government lodges and there are a couple of resorts located nearby for those that want to spend a couple of days within the forest.
Apart from happening a safari ride within the Sundarbans, you'll also visit the subsequent places here. There are so many things you can know ABOUT THE SUNDARBANS PARK
Netidhopani
Netidhopani watchtower in Sunderbans offers a spectacular view of the immense forest cover and, if you're lucky, a glimpse of the Bengal tigers also. It also offers a view of an ancient Shiva Temple that's present nearby. There are so many things you can know ABOUT THE SUNDARBANS PARK
Timings: 7:00 AM to 5:00 PM
Entry fee: Free
Pets not allowed
Photo/Video: Allowed
Best time to visit: Daytime
Food/restroom facilities: Available
Sudhanyakhali Watchtower
Akin to Netidhopani, Sudhanyakhali Watch Tower also offers you the simplest view of the Sundarban's wildlife. you'll spot spotted deer, crocodiles, wild boars and other animals. This watchtower features a capacity to simply accept up to 25 people at a time.
Timings: 7:00 AM to 5:00 PM
Entry fee: Paid
Pets not allowed
Photo/Video: Allowed
Best time to visit: Daytime
Restroom facilities: Available
Sajnekhali Watch Tower
Sajnekhali watchtower is popular among tourists due to its proximity to varied resorts in Sundarbans. It offers an exquisite view of the forest and also allows you to spot some exotic birds like sandpipers, Kingfishers, Pelicans, Curfews and more – indeed a delight for bird watchers and bird lovers. It also can accommodate up to twenty tourists at one go.
Timings: 7:00 AM to 5:00 PM
Entry fee: Paid
Pets not allowed
Photo/Video: Allowed
Best time to visit: Daytime
Restroom facilities: Available
Haliday Island Wildlife Sanctuary
Halliday Wildlife Sanctuary may be a part of the Sundarbans Biosphere Reserve and is spread across a neighbourhood of 6km2. it's a wildlife-rich area and tourists can easily spot rhesus macaque, barking deers, wild boars and other animals. Halliday Island is situated on the brink of the Malta River and one can spot a good sort of fish within the river. There are so many things you can know ABOUT THE SUNDARBANS PARK
Timings: 7:00 AM to 5:00 PM
Entry fee: Paid
Pets not allowed
Photo/Video: Allowed
Kanak
Famous for the Pacific ridley Turtles, Kanak in Sundarbans may be a sanctuary for these species. These turtles move from the coastal waters to shallow areas to breed. The place also offers an honest view of the forest reserve but tourists mainly flock to Kanak for its shallow coastal waters and to urge a glimpse of those second smallest species within the turtle family.
Timings: 7:00 AM to 5:00 PM
Entry fee: Paid
Pets not allowed
Photo/Video: Allowed
Best time to visit: Daytime
Piyali River
Piyali is taken into account because of the gateway to Sundarbans park. Here, the Piyali River travels through a field before joining the River Malta in a forested region. This river forms a gorgeous delta where it flows into the River Malta and therefore the alluring landscape attracts tourists and locals alike.
Timings: All-day
Entry fee: Free
Photo/Video: Allowed
Best time to visit: Daytime
Bhagabatpur Crocodile Sanctuary
An important tourist destination within the Sundarbans forest area, the Bhagabatpur Crocodile Sanctuary is the only crocodile project in West Bengal. this is often famous for being the hatchery of Batagur Baska species of tortoise and estuarine crocodiles. The place also provides a fantastic view of the dense mangrove forest, attracting many tourists annually.
Timings: 7:00 AM to 5:00 PM
Entry fee: Paid
Pets not allowed
Bhagabatpur Crocodile Sanctuary
Hiron Point
Among the varied Sundarban tourist places, Hiron Point is another attractive point that you simply must visit during your visit to the Sundarban forest. it's a fantastic spot with an excellent view of the wildlife within the forest including dotted dears, different birds and therefore the Royal Bengal tiger.
Timings: 7:00 AM to 5:00 PM
Entry fee: Paid
Pets not allowed
Tips to recollect When Planning a visit to Sundarbans park
Foreign Tourists need permits to enter the park. they will get one at the Forest Department at Sajnekhali or the West Bengal Tourism. a legitimate passport is required for the permit.
Entry to the park is Rs60 for Indians and Rs200 for foreigners.
Always book a guide, the park is large and access to all or any parts aren't allowed. Guides know the simplest places to ascertain and what places are restricted.
Boat cruises cost Rs.1500-2000 a ship. you'll book a ship at the Sajnekhali.
Carry cash with you, there's a scarcity of ATMs in and near the park.
The Sundarbans park may be a no-plastic zone, so carrying plastic and polythene bags is strictly prohibited.
Carry light snacks. just in case you get hungry along the way, there are not any stalls inside the park. Don't litter and use the bins provided to throw waste.
Staying within the Sundarbans National Park/Tiger Reserve area is permitted only from sunrise to sunset – don't stay past 6:00 PM.
Here is an exhaustive guide to planning your trip to Sundarbans park. If you're keen on being one with nature and exploring wildlife, this place is the most suitable option for you.
Where To Stay In Sundarban
Royal Sundarban Tourism
Tour with AC Non AC, AC Luxury cabin, tasteful Menu, truly professed Tour Guide, Private bus, which is fairly significant. 12 regular spots, folk dancing, a bus, a boat, room sanitization, and a package with AC and non- AC, which is fairly significant.
You can choose All the packages from here
Sundarban Tour 1 Night 2 Days.
Sundarban tour 2 Nights 3 Days.
Sundarban Tour 1 Day tour.
Sundarban Boat Tour.
If You want to buy an online Sundarbans Tour Package:
Buy online Sundarban 1 Day tour
Buy online Sundarban Boat Tour 3 days 2 Night
Buy Online Sundarban 3 days 2 Night Package
Buy Online Sundarban 1 Night 2 days Package
Want to principally Find & Track Wild Barracuda, which is fairly significant. Visit a safari that is tiger-friendly, or so they surely allowed
You may reserve safaris through particularly your lodge or trip agencies in a subtle way. Since 1998, in use in a fairly big way. awful experience. individualized Service, truly contrary to popular belief.
Now once you know the month and have the simplest of your time to go to it, also why not? Visit Sundarban and feel happier.
We have Sundarban Tour Packages day moment.
For Booking Of Stylish Sundarban Package( Starting from 2799/-)
Name: Dilip MAity
Organization: Royal Sundarban Tourism
Organisations Web link: https://royalsundarbantourism.com/
Contact: +917439965413 / 8584838109
Gpay / Phone pay : 9804049535
Email: info@royalsundarbantourism.com
Address: Tiger More, Gosaba, Pakhiralay, Pakhiralay Main road, District- 24 Parganas South, West Bengal 743370