Reasons You Must Take Up Sundarban Boat Safari 2022
Newest attraction of Sundarban
Refreshing
Better view of Sundarban
Best for Photographers
Must take up once in a life
Boat safaris are incredible, and they become much more so when you go on a trip with your family or friends. Sundarban tourism is expanding by the day, as evidenced by these Sundarban google reviews:
This will give you an idea of why Sundarban tours and travel are becoming increasingly popular.
Sundarban National Park's splendour can only be appreciated by taking a boat safari. Because the park is completely underwater, visitors must cruise from island to island to discover it. Depending on the trip you choose, the duration of the boat voyage might range from 2 to 11 hours.
Entry Requirements
For all visitors, including minors, a government-approved identity card with a photo and address, such as Aadhaar, Voter ID, or Driving Licence (PAN Card is not accepted), is required for access into the park.
Foreign nationals must provide their original passport as well as a copy of their visa. To receive a forest access permission from the Sajnekhali Forest Office, certain documents must be presented in their original form.
All of the boats have western toilets, life jackets and life buoys, a kitchen, qualified personnel, comfy seats, and sun and weather protection.
We've teamed up with local boat owners to rent out their vessels for private outings. These boats have been approved by both us and the local boating organisations. This aids in the creation of jobs for the people while also preventing them from indulging in criminal activities such as poaching. They become active participants in the resort's and the Forest Department's conservation activities.
Guests are taken from the resort to the Dayapur Island boat docks (Waxpol Ghat). Our boatmen and forest guide cruise through the creeks and rivers on board, stopping at designated watch towers that provide the finest opportunity to see the indigenous flora, animals, avifauna, and reptiles.
From the watchtower, you may see estuarine crocodiles, spotted deer, the Brahminy Kite, Brown Winged Kingfisher, Jungle Cat, Fishing Cat, and Water Monitor lizards. You could spot the rare Royal Bengal Tiger if you're lucky.
If you are afraid of being in the water or are concerned about the Sundarban waters, please know that you need not be concerned. You may rest assured that you will be safe in Sundarban's boats because they take all necessary precautions to keep you safe.
1. Sundarban boat safari is the new attraction
A boat safari in the Sundarbans is something you should always look forward to. This boat safari is one of the safest and most pleasant in the world. This is the sort of thing you should do and appreciate while in Sundarban. You won't have to worry about anything if you vacation with Royal Sundarban Tourism.
2. The best refreshing place: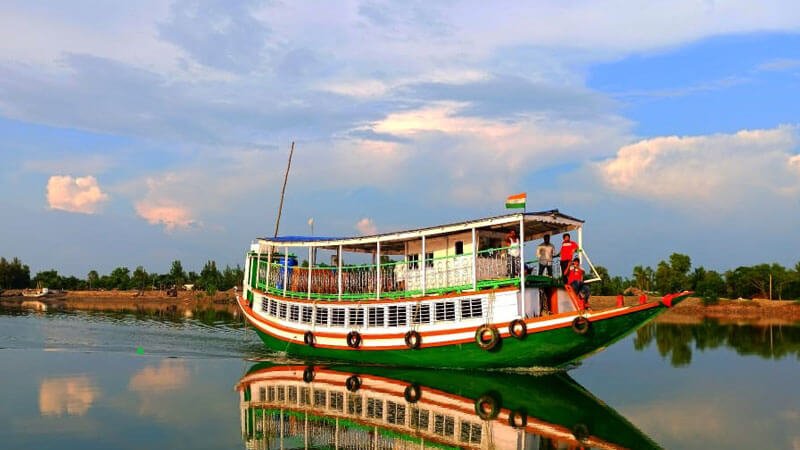 Sundarban is stunning in and of itself, but the boat safari is the most incredible way to appreciate it. The Sundarban travel service with whom you are travelling must be well aware of this and will make every effort to provide you with an authentic experience. If you're bright enough, you'll undoubtedly be able to experience and love Sundarban.
3. The boat offers you a better view:
That's a fact that Sundarban is better viewed from a boat, and you can't deny it. The only way to truly understand Sundarban is to go on a boat safari. You won't have to worry about it once you've figured it out.
4. One of the best option for photography:
Sundarban is a fantastic location for photography. If you are a photographer looking for Pgotography, you should visit Sundarban and go on a Sundarban boat safari. The experience you will have there will be out of this world, and you will remember it for the rest of your life.
5. In this life Sundarban boat safari is must:
Sundarban boat safari is a once-in-a-lifetime adventure that you should take advantage of. Come to Sundarban, go on a boat safari, and live life to the fullest.
Be in Sundarban:
Don't waste time preparing and contemplating. Just come to Sundaran and have a good time. This is the only way to be successful in life. This is critical, and it is how you will develop as a person.
There are many Sundarban tour operators that offer different types of package tours to the Sundarbans National Park in West Bengal. Most are predefined group tours with fixed itineraries and can either be day tours, overnight, or multiple nights with set accommodations included. However ROYAL SUNDARBAN TOURISM IS The best, You will be picked up from Kolkata and dropped back there and can either stay aboard a boat or on land. Hotels and resorts also provide their guests with tour packages. The best package you will get at Royal Sundarban Tourism. AC/Non AC Tour, AC Deluxe Cottage, Delicious Menu, Experienced Tour Guide, Personal Car. 12 Regular Spots, Folk Dance, Car, Boat, Room Sanitization, AC & Non AC Package.
We have Sundarban Tour Packages Daily Basis.
For Booking Of Best Sundarban Package (Starting from 2500/-)
Royal Sundarban Tourism
Visit: https://tinyurl.com/y6smhoup
Contact: 7439965413 / 8584838109
Whats app link : https://tinyurl.com/yxtvhcs3
Email: info@royalsundarbantourism.com
Address: Sundarban. Gosaba Market Durga Mandir Road, Pin – 743370, West Bengal, India