Sundarban Holiday Packages: Our Sundarban vacation packages are designed to begin in Kolkata or any other city in West Bengal and conclude there. so that you can relax when travelling and not worry about pick-up or drop-off arrangements. From planning to carrying out the vacation, we handle every detail. You may take advantage of a variety of low-cost services during this period, including luxury resort or boat lodging, meals, trips to all the top tourist sights, etc. We can discuss more sundarban holiday packages.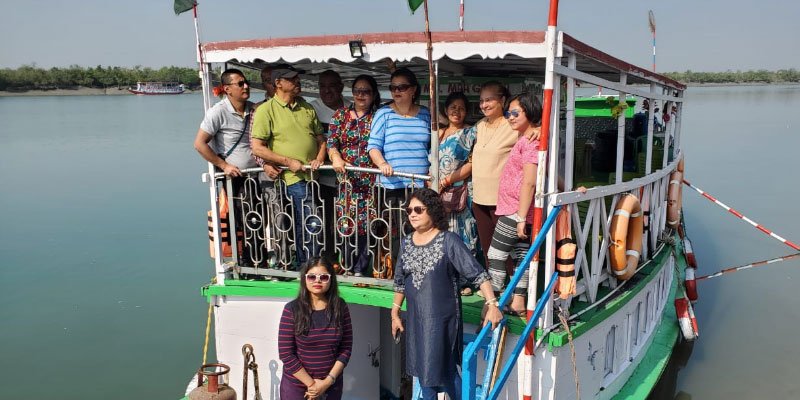 With your comfort and safety in mind, we developed tiny packaging for you. You won't need to worry about the holidays because of this. We guarantee your happiness. Strong and informed about the Sundarbans and its surrounds, our staff of guides is a valuable asset. The price of Sundarban vacation packages may vary depending on the trip operator. However, we are aware of all governmental rules and our skilled tour planners develop Sundarban trip packages that offer the finest pleasure to our tourists while remaining within their means. This enables our tourists to enjoy top-notch food while experiencing the Sundarbans beyond their wildest expectations.
We always strive to provide guests with the best value for their money and valuable time, as well as to keep them secure. We rigorously adhere to the schedule provided in the trip package. When it comes to conversing with our visitors, our staff of guides is highly adaptable. To handle any situation, they only need to lean on their prior knowledge. Our drivers are also trained and respectful. We provide our guests with numerous payment options in addition to the greatest services. Our major objective is to offer the greatest service to our customers.
We take reservations while also making the greatest deal we can and fully eliminating intermediaries. No Sundarban tour company located in Kolkata can match the amenities we provide at this cost. Food is included in the Sundarbanpakage you have purchased; it is not additional. Additionally, the kitchen is kept as hygienically clean as possible. We give our tourists access to neighbourhood tour guides who are familiar with all the Sundarbans' tourism sites. We provide pick-up and delivery services from Canning and Kolkata in both air-conditioned and non-air-conditioned cars. We can discuss more about sundarban holiday packages.
Looking for the most affordable and best Sundarban tour packages from Kolkata? Then you've come to the right place. For over a decade, Minati Travels has been regarded as the best Sundarban tour guide and trip planner. We have a solid reputation for providing affordable and dependable services.
We provide a low-cost Sundarban package tour for everyone. From start to finish, we have a variety of packages to fit your budget and needs. The amenities we offer our guests are second to none.
So, if you're looking for a cheap Sundarban package tour price from Kolkata, we're right around the corner. We strive to provide better service to you to make your trip successful and enjoyable. Contact us today to book your upcoming Sundarban tour! We can discuss more sundarban holiday packages.
Our Sundarban tour guide is very familiar with the entire area and can assist you in travelling smoothly. Here, we organize a complete tour plan for you so that you can enjoy the beauty of nature to the fullest without encountering any difficulties. So, what are you still waiting for? Visit us today to book a low-cost Sundarban package tour from Kolkata!
As a World Heritage Site, it is one of the most popular tourist destinations on the planet. However, if you've never been to Sundarban or haven't heard much about it, now is the time to learn everything there is to know.
Why do you need to know about Sundarban?
The Sundarbans, or "beautiful forest," is a legendary region that is both a UNESCO World Heritage Site and well-known for its tiger conservation efforts as part of the "Tiger Project." While every tiger enthusiast should go here, there is more to this lovely country. Even though Bon Bibi and Shah Jongoli are the subjects of several local tales, there is still a great deal that Indians are unaware of. In any case, now is a wonderful moment to begin. We can discuss more sundarban holiday packages.
The Sundarbans are 10 times larger than Venice.
Ten times the size of Venice is the Sundarbans. There are 102 islands totalling 4000 square kilometres, 54 of which are inhabited, while the remaining are covered in forest. The 10,000 km2 Sundarbans region, which is split between Bangladesh and India, has the biggest coastal mangrove forest in the world. Because of its brackish water fish output and marine fisheries, Sundarbans Biosphere Reserve is regarded as India's Largest Fishery Board. We can discuss more sundarban holiday packages.
The Sundarbans Named After Sundari
The enormous mangrove trees known as Sundari inspired the name of the Sundarban Jungle (Heritiera littoralis). This is connected to a remarkable fact. Did you know the origin of the term Sundarbans for this national park? No one can dispute the fact that the park is lovely and plentiful due to the rich flora and fauna, yet, when one looks at the flora and fauna.
Knowing about Sundarban teaches you about a place that has shown and continues to show tremendous love and care for wild animals. This is the location where UNESCO assisted in saving the Royal Bengal Tigers from extinction. Not only tigers but also many other wild animals and birds, now live here in peace.
You will be able to enjoy an amazing boat ride, folk dance, and many other enjoyable activities that you would expect to find in a natural setting such as Sundarban.
Let's know about the Package:
Sundarban Packages come in a variety of sizes. You must select the best one of them. The following are some of the Sundarban packages:
1 night 2 days
2 nights 3 days
1-day day tour
These are some of the Sundarban packages available to you. You can ask one of the best travel agents to assist you in selecting the best Sundarban tour package.
The journey:
Let us now discuss the Sundarban itinerary:
First, decide on the best Sundarban tour package for you. Now:
Drive to Sundarban and arrive by noon.
Hotel stay and relaxation
Sandeshkhali excursion
Tour of a bird sanctuary
Tour of the Tiger Reserve
Sixth. Forest Safari.
Boat ride, for example
These are some of the enjoyable activities available in Sundarban. However, if you are fortunate enough, you will be able to enjoy yourself much more. Purchase your ticket now: Booking your ticket now will get you the best Sundarban Packages. So, don't put it off any longer; do it now.
Book Sundarban holiday Packages.
Tour with AC Non AC, AC Luxury cabin, tasteful Menu, truly professed Tour Guide, Private bus, which is fairly significant. 12 regular spots, folk dancing, a bus, a boat, room sanitization, and a package with AC and non- AC, which is fairly significant.
For Booking Of Stylish Sundarban Package( Starting from 2799/-)
Name: Dilip MAity
Organization: Royal Sundarban Tourism
Organisations Web link: https://royalsundarbantourism.com/
Contact: +917439965413 / 8584838109
Email: info@royalsundarbantourism.com
Address: Tiger More, Gosaba, Pakhiralay, Pakhiralay Main road, District- 24 Parganas South, West Bengal 743370