How To Travel From Howrah To Sundarban: The Sunderban Tiger Reserve is accessible through Sonakhali via Canning or Bagna via Dhamakhali. The entrance points for accessing South 24 Parganas Forest Division, on the western bank of the Malta River, are Namkhana, Raidighi, or Jharkhali through Canning/Basanti. Entry permits for the STR are available in Canning, Sonakhali, and Bagna, and for the Western section of the Sunderban Forest at Canning, Namkhana, and Raidighi. Let's know about How To Travel From Howrah To Sundarban.
By Air :
Dum Dum (166kms), is the nearest airport in Kolkata.
By rail :
The nearest railhead is at Canning, 48 km away. The nearest town is Gosaba, 50 km away.
Sundarbans can only be reached by riverine rivers. There are suburban trains from Kolkata to Canning and road transit to Namkhana, Raidighi, Sonakhali, and Najat, from where motor launch services to the Sundarbans are accessible. Let's know about How To Travel From Howrah To Sundarban.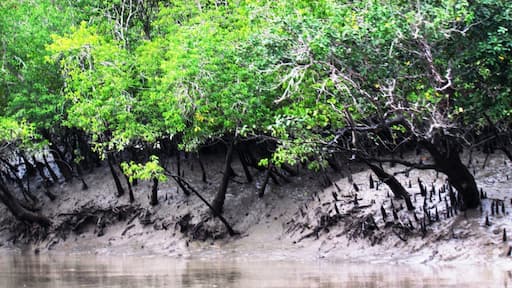 Road :
Above mentioned embarkation points from Kolkata are Namkhana (105 km), Sonakhali (100 km), Raidighi (76 km), Canning (64 km), Najat (92 km).
Waterways :
Approximate time taken between various points are :
1. From Namkhana – Bhagabatpur Crocodile Project (2.5 hours) Sagar Island (2.5 hours) Jambudwip (3.5 hours)
2. From Sajnekhali – Sudhanyakhali (40 minutes) Buridabri (Tiger Project Area) (5 hours) Netidhopari (3.5 hours) Holiday Island (3 hours)
3. From Sonakhali – Gosaba (1 hour)
4. From Raidighi – Kalas (5 hours)
It is not difficult to go from Sundarban to Howrah. If you go to Howrah, you can easily get to Sundarban. Don't worry, we'll walk you through it. You must first grasp how and why these processes work. To begin, you must have a map of Sundarban at your disposal. If you have a Sundaran Map, you may quickly know where to go and how to get there. Let's know about How To Travel From Howrah To Sundarban.
We will, however, continue to help you by answering your how, why, and when questions.
Know the How
The distance between Howrah and Sundarban is not enormous, yet the issue is not one of distance but of not understanding how. So here's how it's done.
1. Get the Sundarban Map.
2. Now contact a tour guide or travel agent.
3. You may ask them anything you wish about Sundarban:
4. Plan a trip with them.
5. Have a great time.
As a result, these are the correct answers to your essential how. If you are still not pleased, we may go over this issue more in this post. Yes, we will certainly discuss it more, so let's get started.
Now the when
Yes, the next big question is when I should go to Sundarban. You are welcome to visit Sundarban at any time. Sundarban, like everything else, has a perfect time. Sundarban is open during the month of June. This is the ideal time of year to visit Sundarban. This will give you a true sense of Sundarban. Let's know about How To Travel From Howrah To Sundarban.
Sundarban is at its most beautiful in June. Even the animals are in a good mood. There is a bright sky, joyful animals, and a fantastic adventurous forest.
Come to Sundarban and have fun:
Yes, you now know everything there is to know about Sundarban, and you can relax. It's a beautiful and great location to be in. There are really happy animals and a fantastic atmosphere. Let's know about How To Travel From Howrah To Sundarban.
On this 4-day journey from Kolkata, dive into the greatest Sundarban vacation package without worrying about lodging, safety, or transportation. Take educational hikes to learn about medicinal plants, and mangroves, boat excursions to see indigenous culture in a nearby community, and spend a night in the rainforest to master survival skills. You can also spot alligators and tigers there. For a hassle-free trip, return door-to-door transportation, three nights' lodging, and meals are all included.
Royal Sundarban Tourism
Visit: https://tinyurl.com/y6smhoup
Contact: 7439965413 / 8584838109
 What's app link: https://tinyurl.com/yxtvhcs3
Email: info@royalsundarbantourism.com
Address:Tiger More, Gosaba, Pakhiralay, Pakhiralay Main road, District- 24 Parganas South, West Bengal 743370
Map Link: https://tinyurl.com/4ayujcff