The Sundarbans, a mystical labyrinth of mangroves, rivers, and wildlife, beckons adventurers seeking an escape into nature's embrace. Among the many ways to experience this unique landscape, Royal Sundarban Tourism offers a distinctive adventure – "River Crossings and Ganga Adventures." Join us on a journey that transcends traditional tours, providing a deeper connection with the Sundarbans' heart, the Ganga.
FAQ: What makes "River Crossings and Ganga Adventures" a unique Sundarbans experience?
Navigating the Ganga: A Gateway to the Sundarbans' Secrets
The Ganga River, the lifeline of the Sundarbans, plays a pivotal role in this adventure. Royal Sundarban Tourism's expert guides lead you through its intricate channels, uncovering hidden corners of this vast mangrove wilderness. As you navigate the Ganga, be prepared for encounters with exotic wildlife, lush landscapes, and the rhythmic flow of the river.
Read more:
FAQ: Is the Ganga suitable for all travelers?
Yes, the Ganga portion of the tour is designed to be accessible to all. Royal Sundarban Tourism provides options for both boat cruises and speedboat rides, catering to different preferences and levels of adventure.
Island Hopping: Exploring the Sundarbans' Biodiversity
"River Crossings and Ganga Adventures" introduces you to the art of island hopping. Visit various islands along the Ganga, each with its own ecological wonders. From dense mangrove forests to open mudflats, witness the diverse ecosystems that make the Sundarbans a UNESCO World Heritage Site.
FAQ: How much time is spent on each island during the tour?
The duration of each island visit varies, providing a balanced experience. Some stops offer short walks to explore specific features, while others allow more time for in-depth exploration. The itinerary is designed to showcase the Sundarbans' biodiversity without feeling rushed.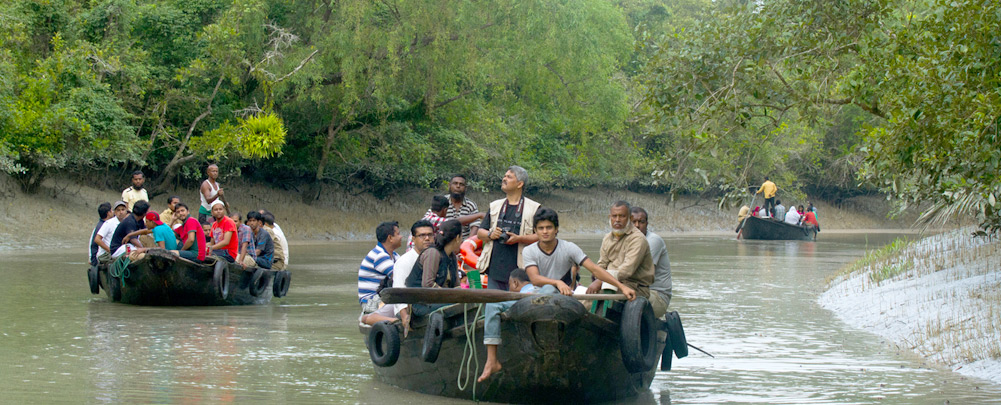 Wildlife Encounters: Glimpses of the Sundarbans' Inhabitants
The Ganga and its surrounding islands are teeming with wildlife. Embark on this adventure with Royal Sundarban Tourism, and you might catch sight of elusive Bengal tigers, playful dolphins, and a myriad of bird species. The Sundarbans' rich biodiversity comes alive during these river crossings and Ganga adventures.
FAQ: Is it possible to spot tigers during the Ganga adventure?
While tiger sightings are not guaranteed, the Ganga is a prime location for such encounters. Royal Sundarban Tourism's experienced guides enhance your chances by sharing their knowledge of tiger habitats and behavior.
Cultural Immersion: Local Villages and Indigenous Tribes
Beyond wildlife, "River Crossings and Ganga Adventures" offers glimpses into the lives of the Sundarbans' inhabitants. Visit local villages and indigenous tribes along the Ganga, gaining insights into their unique cultures, traditions, and sustainable ways of living.
FAQ: Can travelers interact with the local communities during the tour?
Yes, Royal Sundarban Tourism encourages cultural exchanges. Depending on the village visited, you may have opportunities to interact with locals, learn about their customs, and even participate in traditional activities.
Safety First: Navigating the Ganga with Confidence
Safety is paramount during the "River Crossings and Ganga Adventures" tour. Royal Sundarban Tourism ensures that all boats and equipment meet safety standards. Expert boatmen and guides accompany you, providing a secure and enjoyable experience on the Ganga.
FAQ: What safety measures are in place for river crossings?
All boats are equipped with necessary safety gear, and Royal Sundarban Tourism follows stringent safety protocols. Life jackets, emergency equipment, and experienced boatmen are integral parts of the tour to ensure a secure journey.
Booking Your Ganga Adventure with Royal Sundarban Tourism
Ready to embark on the "River Crossings and Ganga Adventures" tour? Contact Royal Sundarban Tourism at +917439965413 or +918584838109, or email info@royalsundarbantourism.com.
Escape the ordinary and delve into the extraordinary as you explore the Sundarbans through "River Crossings and Ganga Adventures." Royal Sundarban Tourism invites you to navigate the Ganga, cross rivers, and unravel the secrets of this enchanting mangrove ecosystem.
We have Sundarban Tour Packages every day
For Booking Of Best Sundarban Package( Starting from 2799/-)
Name: Dilip MAity
Organization: Royal Sundarban Tourism
Organizations Web link: https://royalsundarbantourism.com/
Contact: +917439965413 / 8584838109
Gpay / Phone pay : 9804049535
Email: info@royalsundarbantourism.com
Address: Tiger More, Gosaba, Pakhiralay, Pakhiralay Main road, District- 24 Parganas South, West Bengal 743370
Also you can Book Sundarban Tour At Maity Tourism Powered By Argusdna,