Sundarban tour by boat: Since I was a young boy and read "The Hungry Tide," I've been very interested in the Sundarbans. I went to the park for the first time in 2019, and I've been back several times since then. On Google Maps, the mangrove forest is shown as a thin strip of grass that runs parallel to the coast and is cut through by a network of blue veins. But when you get to the Godkhali Ghat ferry point and get on a boat, you see that the Sundarbans are a big, strange jungle. It is said that tales began here and that tigers rule the land.
The boat trip I took on my last visit to the Sundarbans yielded some amazing wildlife encounters, because of my crew, especially my guide Royal Sundarban Tourism.
On the second day, my friend was looking around the bush with his binoculars. He was doing this from the Sudhanyakhali watchtower, where he saw a Felis bengalensis, a species that is very rare and hard to find. We looked at the beautiful cat for a few quick seconds before it slipped into the nearby bushes. I also got a picture of the hard-to-find green-bellied malkoha while I was standing in the same place.
When we were eating lunch near the Panchamukhani Zone another time, we heard a tiger making a low growling sound. We didn't eat at all so we could look through the mangrove thicket carefully. The roar of another tiger cut through the air all of a sudden. My guide had a feeling that they were going to get together.
As our boat kept moving forward at a slow pace, the pressure got worse. A big male Bengal tiger came out of nowhere about 30 feet away, hidden in the bushes and trees that had grown up around us.
He stands there for ten to fifteen minutes while we take pictures of him, and then he slowly walks into the woods. By staying in the middle of the river, we were able to see a big female with a golden coat right away. She crept along the riverbanks before disappearing into the thick brush. Their random roars kept going on, and later that day, we heard them chasing after a big group of chital.
On another evening, as we were leaving the protected area around the time tea was given, Mrityunjay saw two huge saltwater crocodiles swimming towards us at an incredible speed. Soon, they were swimming next to or behind our boat.
Then, to everyone's surprise, the crocodile that had been following the one in front of it suddenly picked up speed and caught up to it. Because the giants were fighting so hard, all hell broke loose, and the river got rough because of it. When it was time for me to leave, I couldn't help but choke back tears of gratitude that I had been able to see this.
EXPLORE.
Sundarban Tour By Boat
The only way to get through the muddy park is by boat, since there are no other ways in. Due to safety concerns, you can't walk in the forest. The only exception is going around the watchtowers with a guide, who will work as an escort. From sunrise to sunset, you need permission from the department of the forest to go into the forest. You can get permission from the Sajnekhali, Sudhanyakhali, Pirkhali, Lebu Khali, Bonbibi Varani, Panchamukhani, Netidhopani, Dobanki, Sarakkhali, and Choragaji zones of the forest. In these more open parts of the forest, it's not uncommon to run into a lot of other boats.
Blue reflections on dark green rivers are a common feature of the environment, which doesn't change much from one place to the next. However, each of these places has its own unique charm. The Sudhanyakhali Watchtower might be a well-known place to visit. It is about 25 kilometres away from Canning, and you can get there by boat. At the base of the tower is a shrine where people can pay their thanks to the forest goddess Bonbibi in the hopes of seeing tigers and then watch the sunrise from there.
At the Dobanki Watchtower, which has a covered walkway, people can get a better look at the mangrove plants and environment. A guide-led walk through the village is also a good idea. When the sun goes down, guests must go back to their resorts or to one of the marked areas where boats can anchor for the night.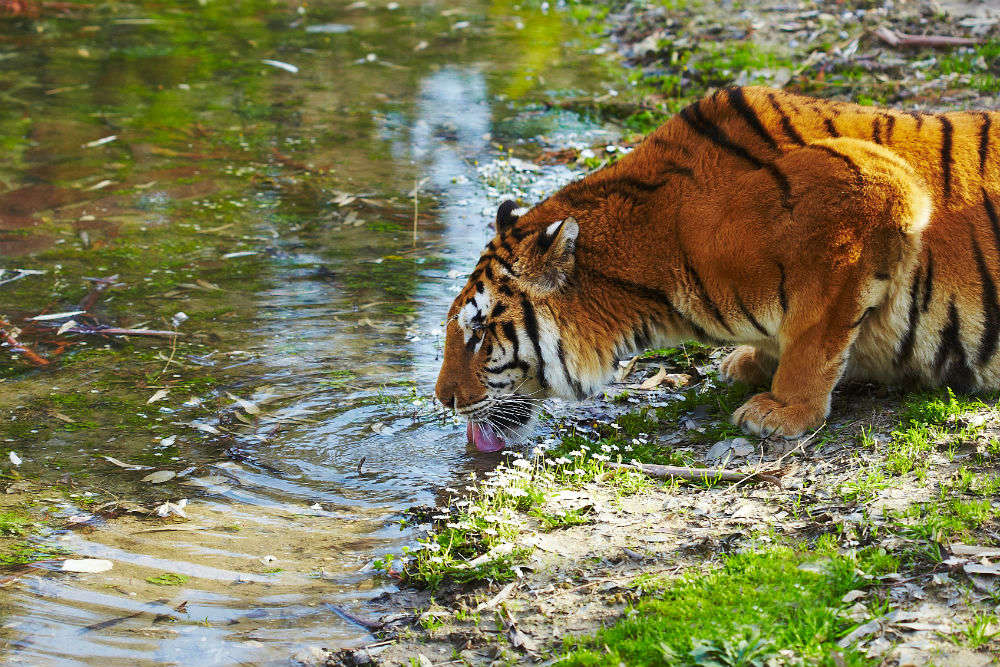 WILDLIFE
Sundarban Tour By Boat.
Even though the Bengal tiger is the most powerful animal in the Sundarbans, there are a lot of other animals and birds that live there too. Two more types of cats are the Felis bengalensis, which is sometimes called the fishing cat, and the Felis chaus. Some of the animals that live in the trees are chital deer, rhesus macaques, and pigs. Some animals that live in water are otters, water monitor lizards, Irrawaddy dolphins, Gangetic dolphins, and saltwater crocodiles. There are also snakes that move and birds of every colour you can think of.
Finding animals can be a lot more fun when you have a dedicated naturalist and a wildlife camera with you. Way2Wild offers inquiry and photography trips with skilled trackers and naturalists (Royal Sundarban Tourism; Rs 4999/- per person for a 2-night/3-day picture tour, which includes all meals, jungle cruises, and transfers to and from Kolkata).
Read more.
SAFARI TIMINGS AND COSTS.
Sundarban Tour By Boat.
At any time of year, you can go to the park. The best time to travel is between August and the middle of February, when the weather is nicest. However, October through January are the busiest and most popular months because the tides are at their best then. From about the middle of March to the middle of July, the weather can be a bit uncertain. Most of the time, you can get the licences you need at the Sajnekhali forest office.
Most trips take place every day from dawn to dusk. In all the other zones, boat passes cost Rs. 400 per person, except for the inner Netidhopani zone, which is close to the main area and costs Rs. 800 per permit. Depending on the time of year, people have to pay between 60 and 120 rupees. All forest licences are usually gotten from the Sajnekhali forest office, which is about an hour and a half away from Godkhali.
More Sundarban Tour Details Blogs
Sundarban package details blog
Sundarban Tour details BlogSundarban Tourism Details blog
GETTING THERE AND AROUND.
Sundarban Tour By Boat.
The airport closest to Godkhali Ghat is in Kolkata, which is about 100 km (3 hours) north of the boat point. After Godkhali, the rest of the trip is done by boat. Prices for boats start from Rs 3500 per day, depending on the type of boat and the season. (Nov-Jan are peak months). A ship safari can be set up at most sites;
STAY
Boats The easiest way to enjoy the Sundarbans is to sit on a boat in the middle of the river with a cup of hot tea and listen to the naturalists and boatmen tell stories. From Godkhali Ghat, people often rent boats, and most of them have kitchens, beds, and bathrooms.
Where to Stay:
Royal Sundarban Tourism
Tour with AC or without AC, AC Luxury Cottage, Tasty Menu, Really Skilled Tour Guide, and a Beautiful Private Car. Most of them thought that the deal included 12 regular spots, folk dancing, a car, a boat, room cleaning, and AC and non-AC rooms. Want to find and follow wild tigers? Visit a tour that is mostly safe for tigers. You can book tours through your hotel or a travel agency. Since 1998, they have been serving in a quiet way. In a big way, it was a really great time. In a quiet way, individualised service.
You can choose All the packages from here
Sundarban Tour 1 Night 2 Days.
Sundarban tour 2 Nights 3 Days.
If You want to buy an online Sundarbans Tour Package:
Buy online Sundarban 1 Day tour
Buy online Sundarban Boat Tour 3 days 2 Night
Buy Online Sundarban 3 days 2 Night Package
For Booking Of Perfect Sundarban Package( Starting from 2799/-)
Name: Dilip MAity
Organization: Royal Sundarban Tourism
Organisations Web link: https://royalsundarbantourism.com/
Contact: +917439965413 / 8584838109
Gpay / Phone pay : 9804049535
Email: info@royalsundarbantourism.com
Address: Tiger More, Gosaba, Pakhiralay, Pakhiralay Main road, District- 24 Parganas South, West Bengal 743370