Sundarban Best Tourist Destination 2022
The best locations
What should you do if you don't know where to go?
It should be your next tourist destination.
Tourists and tours are a match made in heaven. It's time for you to travel to some of the most beautiful and fascinating places on the planet in 2020. Sundarban Tourism is one of the most beautiful and spectacular destinations in and around some of the regions in West Bengal.
Sundarbans National Park is located in the Sundarbans delta in the Indian state of West Bengal and is home to the formidable Royal Bengal Tigers. This one-of-a-kind tiger reserve in India spans 10,000 square kilometres and includes a little portion of Bangladesh. On May 4, 1984, the park was proclaimed as a national park, and it became the designated tiger kingdom. More than 250 tigers, as well as a variety of singing birds, reptiles, and various invertebrates, including crocodiles, call the famed adventurous land home. Allow us to take you on a virtual tour of the world's largest mangrove forest.
1. The most advantageous locations.
Let's get out this New Year and find some of the most beautiful and fascinating places on the planet. This year's theme is environmental protection. As a result, we'll recommend some of India's most gorgeous and environmentally responsible destinations.
The Sundarbans are one of India's most beautiful destinations. It has a diverse range of fauna, rivers, and woods.
Goa: Tourists flock to Goa, but little is known about the state's natural wonders. Let's have a look at it this time.
Assam: Visit Assam for its biodiversity as well as its tea. Investigate it.
2. Where should you go.?
You must go to the Sundarbans since it is a lesser-known location where you will be able to experience nature in its purest form. Visit it before it, like other woods throughout the world, vanishes.
3. Your Next Tourist destination should be.
As we've already established, this time it'll be Sundarban. So leave it alone. Sundarbans should be your next tourist destination. We are confident that you will not be disappointed if you visit.
What do people ask?
Where is the best place to travel?
A: There are many places to travel and those can be best in your way.
Top 5 places to travel
Shimla
Mizoram
Goa
Bangalore
Sundarban
Where should I travel in February?
You must travel to Sundarban this February.
Go and have fun:
It's time you go and have fun in your favourites tourist spot.
Come to the Sundarbans for a one-night and two-day tour and have a great time. Stop tensing up and enjoy your life. We wish you all the best.
Book Sundarban Tour Packages with Royal Sundarban Tourism for a Beautiful Vacation.
Sundarban, a national park in West Bengal that is also known as a tiger reserve, attracts a large number of wildlife enthusiasts each year. For wildlife enthusiasts as well as leisure travellers, Royal Sundarban Tourism offers one of the top Sundarban vacation packages. With our travel packages, we guarantee that your Sundarban vacation will be unforgettable.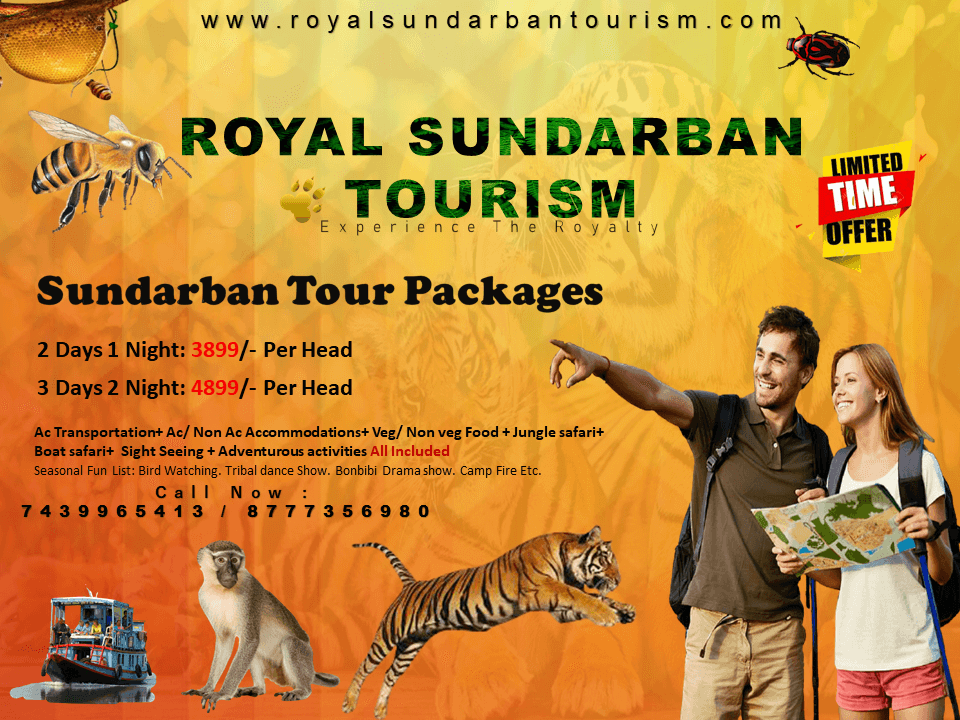 There are many Sundarban tour operators that offer different types of package tours to the Sundarbans National Park in West Bengal. Most are predefined group tours with fixed itineraries and can either be day tours, overnight, or multiple nights with set accommodations included. However ROYAL SUNDARBAN TOURISM IS The best, You will be picked up from Kolkata and dropped back there and can either stay aboard a boat or on land. Hotels and resorts also provide their guests with tour packages. The best package you will get at Royal Sundarban Tourism. AC/Non AC Tour, AC Deluxe Cottage, Delicious Menu, Experienced Tour Guide, Personal Car. 12 Regular Spots, Folk Dance, Car, Boat, Room Sanitization, AC & Non AC Package.
Royal Sundarban Tourism
Visit: https://tinyurl.com/y6smhoup
Contact: 7439965413 / 877356980
What's app link : https://tinyurl.com/yxtvhcs3
Email: info@royalsundarbantourism.com
Address: Sundarban. Gosaba Market Durga Mandir Road, Pin – 743370, West Bengal, India
***************