The best locations
tourist destination: What actions should you take if you find yourself disoriented and unsure of where you should go? It ought to be your next destination for your holiday. Travellers and sightseeing trips go hand in hand like bread and butter. You should make it a goal to travel to some of the most beautiful and fascinating places in the world in the year 2020. The Sundarban is widely considered to be among the most breathtaking and spectacular tourist destinations located in and around the various districts of West Bengal.
Sundarbans National Park, which can be found in the Sundarbans delta in the state of West Bengal in India, is home to the mighty Royal Bengal Tigers. This park is located in the Sundarbans delta. This one-of-a-kind tiger reserve is located in India and protects 10,000 square kilometres of land, including a small portion of neighbouring Bangladesh. On May 4, 1984, the area was designated as a national park, and it was at that time that the tiger kingdom was founded.
The famously exciting territory is home to around two hundred and fifty tigers, in addition to a vast variety of singing birds, reptiles, and various invertebrates, including crocodiles. Crocodiles are also found in the area. Allow us to take you on a tour of the largest mangrove forest in the world through the medium of virtual reality.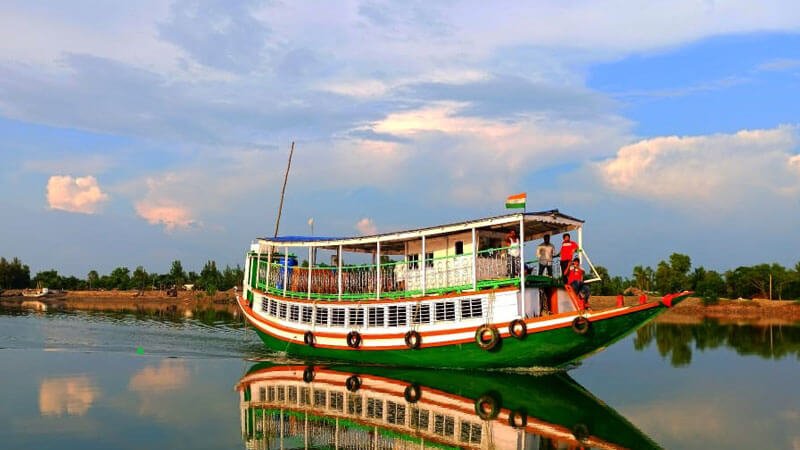 1. The most advantageous locations.
You can rest assured that you will have a wonderful time in the Sundarbans because the Bengali phrase for those wetlands literally translates to "beautiful forest." The Sundarbans mangrove forest is one of the largest of its kind and can be found in the delta that was formed when the Brahmaputra, Ganges, and Meghna rivers converged.
This delta is also known as the Bengal Delta. In addition to serving as an important habitat for Bengal tigers, the Sundarbans is often regarded as one of the most interesting tourist locations on the planet on account of the rich variety of flora and fauna that can be found there.
The Sundarbans National Park encompasses a total area of 20,400 kilometres and is home to the largest mangrove ecosystem on the planet. The mangroves provide a breathtaking illustration of the transition that occurs between marine, freshwater, and terrestrial environments. As a consequence of this, it has become an ideal habitat for several species of animals, birds, reptiles, fish, crustaceans, shrimp, and crabs, many of which are among the most beautiful in the world.
Some of the most gorgeous animals include the chital deer, the Indian python, the leopard cat, the grey-headed fish eagle, and the saltwater crocodile, among others. Not to mention the fact that the Sundarbans Tiger Reserve in India was recognised as a World Heritage Site by UNESCO in the year 1987.
It is recommended that visitors to the Sundarbans go there between the months of November and March. It is the best time of year to view wildlife, including the famous Bengal tiger. Because of the pleasant weather, you will enjoy your stay even more than you did before.
You may also plan a trip to the Sundarbans during the months of April and July if the idea of braving the heat doesn't bother you. It is also important for you to be ready for the chance that the temperature could rise to 43 degrees Celsius.
When it comes to the timing of activities at Sundarbans National Park, the safari starts at 8:30 in the morning and continues until 4:00 in the afternoon. Because there is no possibility of going on a jeep safari in the Sundarbans, the only type of safari that is available is a boat safari.
Goa: Tourists flock to Goa, but little is known about the state's natural wonders. Let's have a look at it this time.
Assam: Visit Assam for its biodiversity as well as its tea. Investigate it.
2. Where should you go.?
You must go to the Sundarbans since it is a lesser-known location where you will be able to experience nature in its purest form. Visit it before it, like other woods throughout the world, vanishes.
3. Your Next Tourist destination should be.
As we've already established, this time it'll be Sundarban. So leave it alone. Sundarbans should be your next tourist destination. We are confident that you will not be disappointed if you visit.
What do people ask?
Where is the best place to travel?
A: There are many places to travel and those can be best in your way.
Top 5 places to travel
Shimla
Mizoram
Goa
Bangalore
Sundarban
Where should I travel in February?
You must travel to Sundarban this February.
Go and have fun:
It's time you go and have fun in your favourite tourist spot.
Come to the Sundarbans for a one-night and two-day tour and have a great time. Stop tensing up and enjoy your life. We wish you all the best.
Book Sundarban Tour Packages with Royal Sundarban Tourism for a Beautiful Vacation.
Sundarban, a national park in West Bengal that is also known as a tiger reserve, attracts a large number of wildlife enthusiasts each year. For wildlife enthusiasts as well as leisure travellers, Royal Sundarban Tourism offers one of the top Sundarban vacation packages. With our travel packages, we guarantee that your Sundarban vacation will be unforgettable.
There are numerous travel operators in the Sundarbans who provide a variety of different types of all-inclusive vacation packages to visitors of the Sundarbans National Park in the state of West Bengal. The majority of tours are predetermined group excursions with specified itineraries. These tours may be day tours, overnight tours, or multi-night trips with predetermined hotels included in each category.
You will be picked up from Kolkata and returned there, and you will have the option of staying on a boat or on land during your trip with ROYAL SUNDARBAN TOURISM, which is the greatest option. Tour packages are another amenity that guests of hotels and resorts can take advantage of.
The Royal Sundarban Tourism will provide you with the greatest package available. Tours with or without air conditioning, deluxe cottages with air conditioning, delectable meals, knowledgeable tour guides, and private automobiles. 12 Regular Spots, Folk Dance, Car, Boat, Room Sanitization, and Sanitization Package, AC and Non-AC Option Available.
Royal Sundarban Tourism
Visit: https://tinyurl.com/y6smhoup
Contact: 7439965413 / 877356980
What's app link : https://tinyurl.com/yxtvhcs3
Email: info@royalsundarbantourism.com
Address: Sundarban. Gosaba Market Durga Mandir Road, Pin – 743370, West Bengal, India
***************