The territory known as Sunderban is home to a plethora of beautiful birds and wild creatures that are known for their boisterous antics. As a result of its status as a wildlife sanctuary, biosphere reserve, and UNESCO World Heritage Site, Sundarban Tour attracts a large number of tourists each year. This lovely piece of land is shared by Bangladesh and India, and it is a photographer's dream as well as a national forest in both countries.
Everything About Sundarban
The word "Sunderban" evokes visions of the most extensive mangrove forest in the world. This forest is known as the Sunderbans. The Sunderbans are home to some of the most extensive mangrove forests on the planet and are an essential habitat for Bengal Tigers. In addition to that, it is the largest national park and tiger reserve in all of India.
In 1997, UNESCO included Sunderban in its list of World Heritage Sites to protect its natural and cultural significance. Sunderban is 38500 square km in size. The park is home to 30,000 spotted deer in addition to 400 majestic tigers. This National Park is both the largest estuary delta in the world and a biodiversity hotspot. It is also a biodiversity hotspot. Learn more about Sundarban and everything it has to offer.
Wild Life in the Sundarbans.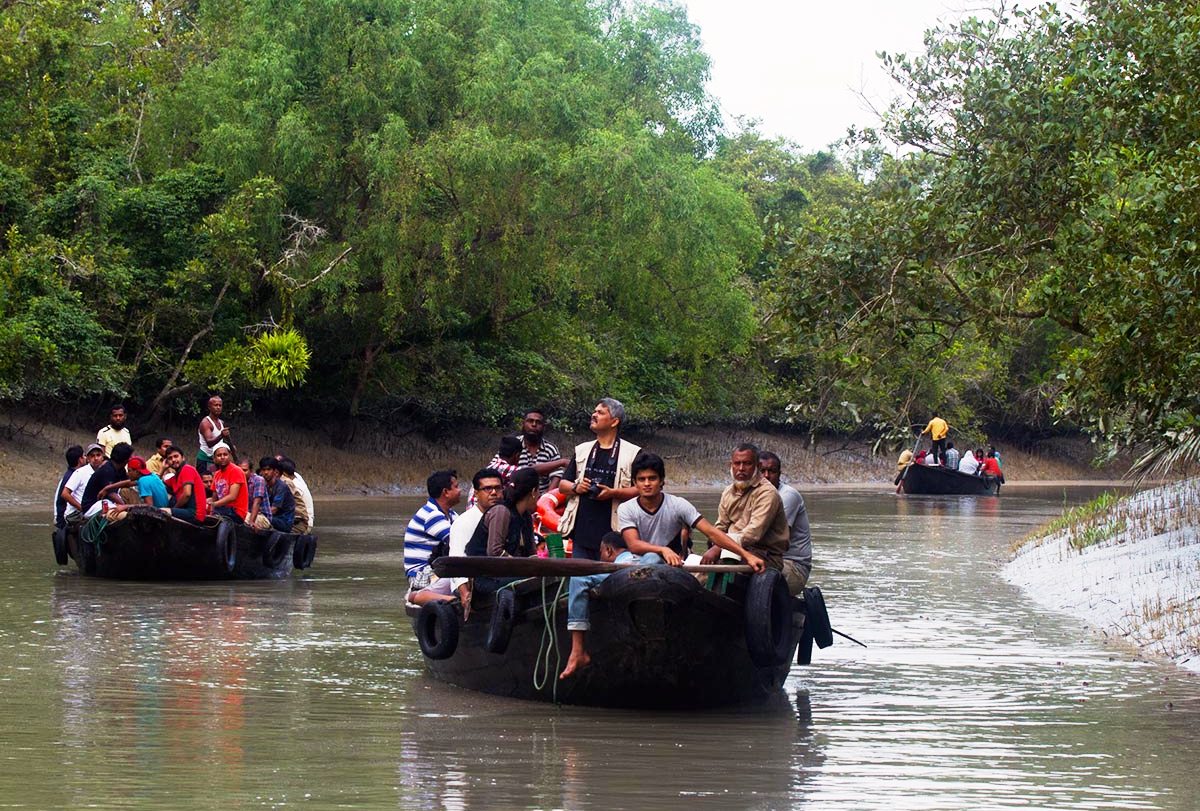 Sunderban, the world's largest delta, is formed by the confluence of the Ganges, the Brahmaputra, and the Meghna rivers. The lower end of West Bengal is home to the Gangetic Estuarine Forest, which holds the title of the largest estuarine forest in the world.
The majestic, crafty, and savage Royal Bengal Tiger is the uncontested monarch of the forest, and it is majestic, crafty, and brutal towards its prey. The Sunderbans are traversed by numerous creeks and tributaries numbering in the hundreds. Learn more about Sundarban and everything it has to offer.
Sunderban is a natural habitat that is home to a wide range of wild species, such as huge lizards, spotted deer, wild boar, crocodiles, and many others, all of which are able to be observed in close proximity by people who enjoy spending time in the great outdoors.
The tranquil natural beauty of the Sundarban is enhanced during certain times of the year by a group of Siberian ducks that travel around the region during their annual migration. Learn more about Sundarban and everything it has to offer.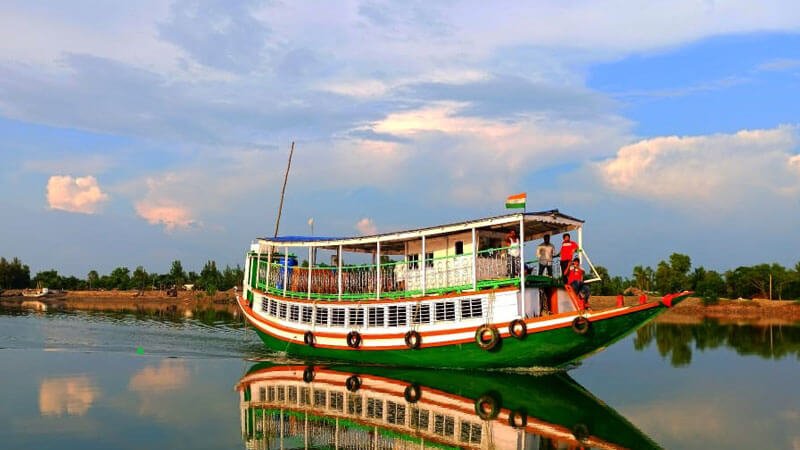 It is perfect for vacationers who want to kick back, relax, and clear their heads while also indulging their senses in the abundant gifts that mother nature has given us. When the tide is low, visitors get the opportunity to watch agitated spotted deer grazing alongside slothful crocodiles that are enjoying the winter sun.
The natural beauty of Sunderban is further enhanced by the presence of a wide range of colourful kingfishers. Tourists are particularly interested in different types of crabs, fish, and birds. Learn more about Sundarban and everything it has to offer.
A significant population of reptiles can be found in Sundarbans National Park in Bangladesh. Green turtles, sea snakes, dog-faced water snakes, olive ridley turtles, and estuarine turtles are among the most common species. Other common species include sea snakes. A significant population of reptiles can be found in Sundarbans National Park in Bangladesh.
King cobras, sea snakes, dog-faced watersnakes, green turtles, estuarine crocodiles, chameleons, and olive ridley turtles are some of the species that are found most frequently in this region.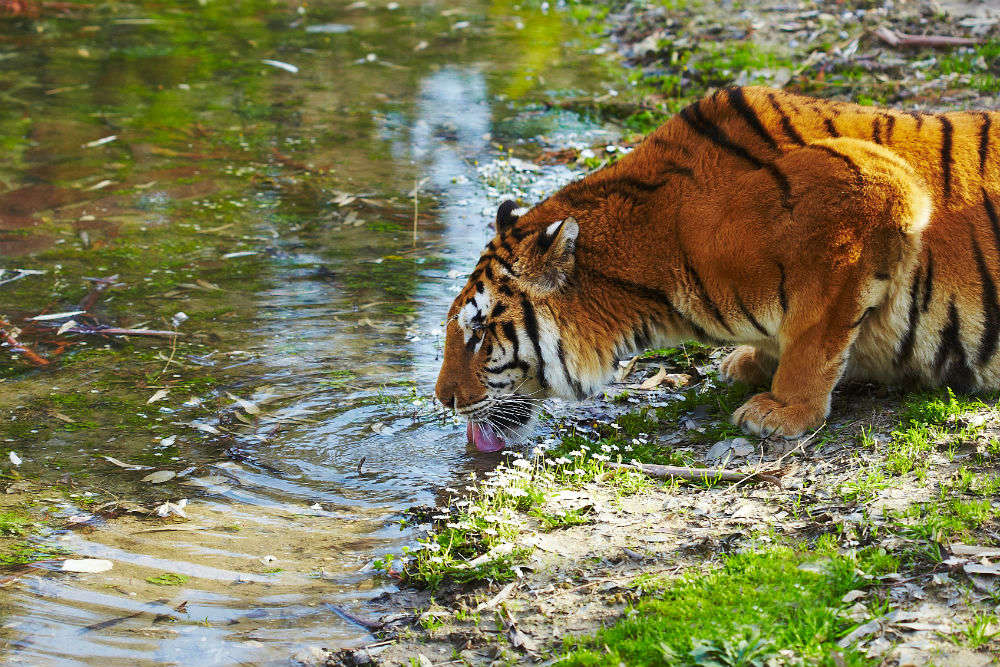 There are a variety of snakes in the area, including Salvator lizards, hard-shelled batgun terrapins, Russell's vipers, mouse gekkos, monitor lizards, curviers, hawks bill turtles, pythons, common kraits, green vine snakes, chequered killbacks, and rat snakes. Some of the lizards in the area include Salvator lizards and monitor lizards Learn more about the Sundarban and everything it has to offer.
Places to visit.
The Sajnekhali wildlife preserve is well-known for the enormous number of kingfishers, sea eagles, lap wings, and sand pipers that it is home to. In addition to Burirdabri and Dobanki, locations like Hamilton Sahib Bunglow, Netidhopani Ghat, and Sudhanyakhali are also popular tourist destinations in the Sundarbans. Learn more about Sundarban and everything it has to offer.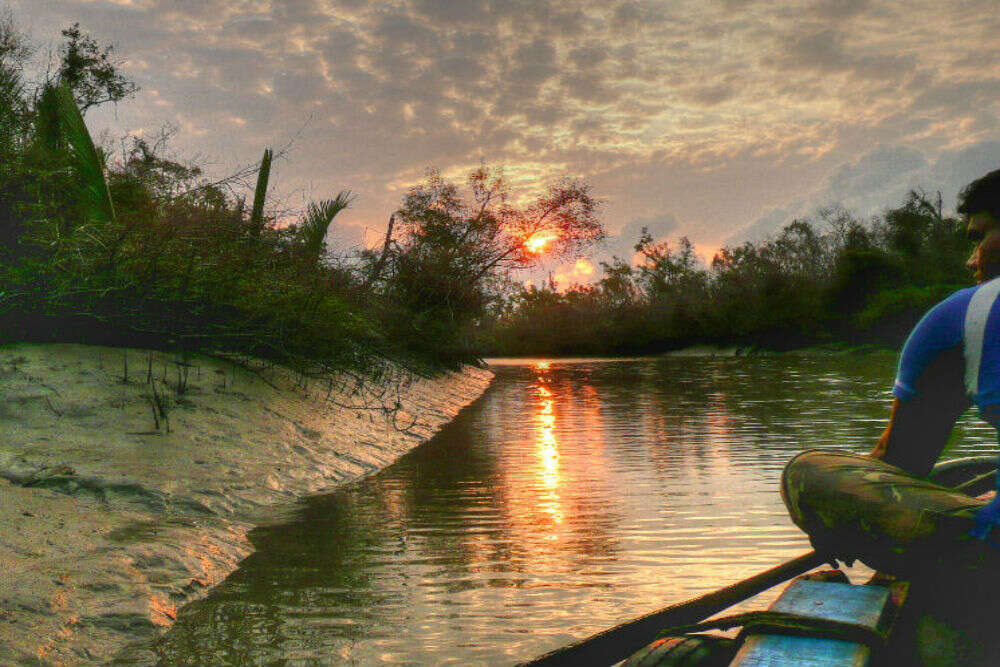 Rabindra Nath Tagore, the Noble Laureate of Hamilton Sahib Bunglow, chose to stay here so that he might take in the breathtaking panorama of the Sundarban. The Sundarbans is a protected area that is home to a wide variety of wildlife and lush vegetation. In order to capture the breathtaking vista that can be found in Sundarban, photographers from all over the world travel there. The majority of the forest is composed of Sundari trees, which are also where the name "Sunderban" originates from.
On this excursion, visitors will witness seven distinct species of Kingfisher, in addition to pond herons, black cormorants, and other types of birds. It appears as though there is a herd of spotted deer grazing in the area. Visitors are able to obtain a close-up view of the local fauna from the Sajnekhali Watch Tower, making it the most popular destination in the area.
Crocodile park, Bonobibi Temple, and the Mangrove Interpretation Center are some of the other attractions that can be found within the Watch Tower complex.
Visitors to the Sajnekhali Watch Tower will have the opportunity to observe a kaleidoscope of kingfisher species. A variety of animals can be seen congregating at the sweet water pond in order to drink. Axis deer, wild boars, and crocodiles can be found in the area around Sudhanyakhali Watch Tower.
Because it is the natural habitat of tigers, there are no people living there. Tigers will frequent a pond with sugary water to quench their thirst.
Know More
At the Do Banki Watch tower, guests have the opportunity to have an unforgettable experience by walking along a canopy walkway and spotting wild creatures. This canopy walk extends for a total distance of five hundred meters. Chital deer and brahmin kites are known to visit a pond with sweet water in order to quench their thirst.
At the Do Banki Watch Tower, visitors will get a once-in-a-lifetime opportunity to view animals from a canopy walk elevated above the forest floor. This canopy walk that is a half kilometer long is an excellent way to get some exercise. Chital deer and brahmin kites are only two of the animals that will visit a sweet water pond in order to quench their thirst.
The next Watchtower is the Netidhopani Watchtower, which features a connection to the epic story of Manasamangal. There is a Shiv mandir that is 400 years old but has been allowed to fall into decay. It is commonly believed that Pratapaditya constructed a road in the top-right corner of the image in order to defend the coastline area from invasion by hostile forces.
The next leg of the journey is a boat safari to Burir Dabri, Kalash Camp, and Sundarban Boney Camp. Burir Dabri is well-known for its mud walk. Tourists can see the Roymangal River and the Bangladesh region of Sundarban. Sunderban is a rare mix of thick green forests and the enigmatic land of vociferous wild animals in a nutshell.
The only way to get to the Sundarbans is to take a boat.
BY AIR : : : : : : : :
The nearest airport is Kolkata, which is serviced by flights from major Indian cities.
BY TRAIN:
Canning is thought of as a gateway to the paradisaical land of Sunderban, which is located forty kilometers to the north of Kolkata. The railroad station in Canning is the one that is most convenient to Sunderban. From 05:45 morning till 23:18 in the morning, local trains travel between Sealdah South Section and Canning. There are a total of 19 different train combinations that can be taken.
If we wish to start our trip in Canning, we will need to ride the local train from Sealdah South Section to Canning and then transfer to the Canning train. After you have arrived in Canning, take a 7-minute stroll through Canning Bazar on your way to the ferry ghat. The ferry service will take you from Matla-Purondar to Dockghat so that you can continue your journey.
Getting across the Bidyadhari rivers on one of the ferries You will need to either take a bus with route number 48, share an auto, or rent a van in order to go to Sonakhali.
Take a ferry across the Bidyadhari rivers to reach Gosaba island, which serves as the entry point to the Eastern Sundarban. Gosaba island is the entryway to the Eastern Sundarban.
We have two options: either take the ferry from Gosaba Bazar to Sajnekhali Tourist Lodge and then continue on to Satjeliya, or we can take a rickshaw from Gosaba Bazar to Pakhiralay Village and then take the ferry to Sajnekhali (Tiger Reserve Project), which is located at the confluence of the rivers Gomoti and Pitchkhali. Alternatively, we can take the ferry from Gosaba Bazar
You also have the option of taking an Auto Riksaw from Canning Railway Station or Canning Ferry Ghat all the way to Godkhali Ferry Ghat. On the way, you will pass over the Basanti bridge. After arriving at Godkhali, you will need to catch a ferry to get to Gosaba. Van Riksaw will take you to Pakhiralay.
By Road:
Taking a bus from Babughat is highly recommended as it is the most direct route to the Sundarban Tiger Reserve. Tourists can get on the CSTC bus at 6:00 in the morning to arrive in Sonakhali at 9:30 in the morning at the latest.
You can reach to Gosaba/Pakhiralay from Sonakhali. The name gives the impression that the sound of the birds chirping will enhance the beauty of the panoramic view of Sunderban. Pakhiralay is the starting point for travel to Sojnekhali. The WBTDC lodges are now available in the area close to the ferryghat. It is possible to make one's way to the spectacular Tiger Reserve from there.
At 6 a.m., 7.30 a.m., 7.45 a.m., 9.15 a.m., 10.45 a.m., 11 a.m., 11.45 a.m., 13 a.m., 13.30 a.m., 15.15 a.m., 16.30 a.m., 17.30 a.m., 13.30 a. Buses depart Sonakhali for Kolkata at 6 a.m., 7 a.m., 7.30 a.m., 10 a.m., 10.30 a.m., 12 a.m., 12.45 a.m., 13.30 a.m., 14 a.m., 14.30 a.m., 15.15, 15.30 a.m., 16.45 a.m.
Where to Stay In Sundarban:
Royal Sundarban Tourism
A tour with air conditioning and one without, a deluxe cottage with air conditioning, a mouthwatering menu, an expert tour guide, and a private automobile. Included in the package are 12 normal spaces, a folk dance performance, a car or boat, room sanitation, and either air conditioning or no air conditioning. Would you be interested in Following and Viewing Wild Tigers?
Make reservations for a tiger-friendly safari. Your hotel or one of the local travel agents can assist you in making reservations for safaris. Providing this service since 1998. Wonderful experience. Personalized and Tailored Service
Visit: https://tinyurl.com/y6smhoup
Contact: 7439965413 / 877356980
Whats app link : https://tinyurl.com/yxtvhcs3
Email: info@royalsundarbantourism.com
Address: Sundarban. Gosaba Market Durga Mandir Road, Pin – 743370, West Bengal , India