Overview Of Sundarban: Before deciding to go on a Sundarban trip, you should first learn about Sundarban. Sundarban, I believe, is derived from the term "Sundari," which means "beautiful." It is an island formed by the confluence of the Ganga, Brahmaputra, and Meghna rivers, which form a vast delta. Sundarban is around 10,000 square kilometres in size.
Sundarban is the world's biggest delta, with 10,200 square kilometres of mangrove forest scattered between India (4200 square kilometres of Reserved Forest) and Bangladesh (about 6000 square kilometres of Reserved Forest). The Sundarban area in India is a 5400 sq km non-forest, populated territory located in the north and north-western fringes of the mangrove forest. As a result, the Sundarban Biosphere Reserve covers a total area of 9600 square kilometres in India. On the west, the Muriganga River travels through the Indian Sundarban, and on the east, the rivers Harinbhahga and Raimangal. Other major rivers that flow through this ecosystem are the Saptamukhi, Thakura, Malta, and Goasaba.
However, this territory is shared by two adjacent nations, India and Bangladesh. As a result, the Sundarban is governed by the governments of India and Bangladesh. The districts of South 24 Paragana and North 24 Paragana in West Bengal, India, span approximately 4500 square kilometres. This region is completely covered with Mangrove trees, which have a diverse range of plant species, although it is recognised as a Mangrove forest. The bulk of visitors just come to see the mangrove forest. The tourism departments of both the Indian and West Bengal governments have worked together to develop Sundarban as a tourist destination in India. It is presently one of the most visited tourist spots in India.
Many wild species, wild birds, reptiles, and mammals like to live in this delta since it provides all of their basic needs because it is located in the Bay of Bengal. Royal Bengal tigers are pleased to dwell and hunt freely here because of their protection. The Indian government created Sundarban National Park as a tiger reserve with this in mind.
Crocodiles enjoy playing in rivers and swimming in them. Apart from that, because crocodiles can readily hunt in the river and on both sides of the river, their numbers are steadily rising from day today.
Before scheduling a Sundarban vacation, make sure to inquire about these details with a Sundarban tour and travel company.
Sundarban houseboat riding:-
Overview Of Sundarban
Without a boat ride in the Sundarban, your journey would be completed. The boat ride will liven up your tour and allow you to get up and personal with nature. You may visit Sundarban National Park, Kalasdeep Camp, Burirdabri Watch Tower, Sudhanyakhali Watch Tower, Sajnekhali Bird Sanctuary, and Sajnekhali Watch Tower by renting the best Sundarban boat. Through a simple online approach, you may book your boat journey with Sundarban Tourism from anywhere in India.
Because Sundarban is located at the confluence of the Ganga, Brahmaputra, and Meghna rivers, you should take a Sundarban houseboat cruise to gain some experience and enjoyment.
Most Houseboats are well-designed to meet the security requirements of the Sundarban region. You may hear the water's music and watch swimming crocodiles and their hunting tactics when travelling by houseboat.
If you're lucky, you could witness a Royal Bengal tiger in the mangrove forest's bay, or you might see a tiger swimming in the sea. If you are a courageous goy, you should spend the night on a houseboat since houseboats stay by the riverbed and are closer to the jungle at night, when you can observe tiger hunting. However, you should check the security of the houseboat where you want to ride and spend the night.
Read More:
Bird watching tower:-
The majority of the tigers may be seen from this vantage point.
From here, one may get a panoramic view of the Sundarbans. From the watchtower, wild creatures such as deer and wild boars may be observed. There is a pond with drinking water nearby. This is where wild animals gather to drink water. Behind the pond is a large expanse of land where animals may be seen from afar.
This is a must-see destination on the Sundarban journey since you can get up and personal with the birds and wild animals. Because Sundarban has a large mangrove forest, it attracts a large number of birds from all over the world. More than 580 kinds of birds may be found in this woodland, especially during the winter months.
You may see birds and listen to their conversations clearly from the bird viewing tower. Apart from that, you may see a variety of wild creatures such as deer, wolves, hyenas, and others roaming freely in this forest. The bird-watching tower is well-designed for tourists to appreciate nature's splendour to the fullest extent possible. The mix of different coloured birds creates a garden-like ambience when you visit the Bird Watching Tower. This is very incredible.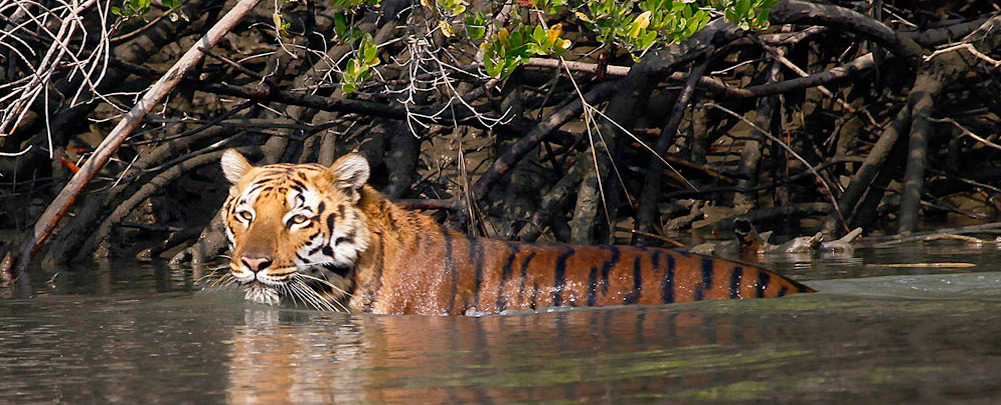 Sundarban National Park:-
Sundarban national park is an important tourist destination for Sundarban tours. It's a tiger reserve where tigers are allowed to roam from one area to the next. It's a large mangrove forest delta that's enclosed by a ferrous wire for maximum protection.
Tourists will be well-protected by security specialists stationed here. By houseboat, you can get here. You'll have the best chance of sighting a Royal Bengal tiger. Not only will you have the best opportunity of seeing a regal Bengal tiger, but you'll also get a taste of what it's like to move a tiger through the jungle for hunting.
You might be able to see a Royal Bengal tiger hunting scene. During your tour to the national park, you will get the opportunity to go house boating as well as observe the park.
Evening Camp:-
Evening camp is the most pleasant part of the trip for all tourists since it is arranged by local artists who perform their art in front of visitors.
Local tourists are knowledgeable in the culture of the area. All around West Bengal, local folk dancing is massively popular. As a result, you should not miss this programme since you will learn about local culture.
This cultural experience will make your Sundarban visit even more pleasurable. If you visit during the winter, you should request a fire camp in the evening.
How can you book a Sundarban tour?
Do you enjoy seeing new locations and learning about other cultures? We want to get away from the stress of day-to-day employment and forget about what's bothering us. Contact Discover Sundarban to arrange your Sundarban tour packages if you're looking for a thrilling and adventurous experience. Sundarban refers to a lovely mangrove forest with Sundari trees. Sundarban is a delta formed by the confluence of the Ganga, Brahmaputra, and Hooghly rivers. It is the world's biggest tidal delta. As a result, going there will be intriguing.
Many Sundarban tours and travel providers offer a variety of Sundarban trip packages to their clients. Aside from that, they provide personalised trip packages based on the needs of their consumers.
As a result, you should gather the necessary information about tour operators and their experience in this sector before proceeding to order a Sundarban trip package that fits within your budget.
I believe you should always create a personalised Sundarban trip package since it will meet all of your expectations. To obtain the best deal, we recommend making a Sundarban travel plan ahead of time and then booking a Sundarban tour package at least one month in advance.
We have Sundarban Tour Packages Daily Basis.
For Booking Of Best Sundarban Package (Starting from 2799/-)
Royal Sundarban Tourism
Visit: https://tinyurl.com/y6smhoup
Contact: 7439965413 / 8584838109
What's app link: https://tinyurl.com/yxtvhcs3
Email: info@royalsundarbantourism.com
Address: Sundarban. Gosaba Market Durga Mandir Road, Pin – 743370, West Bengal, India