Overview Of Sundarban: Before deciding to go on a Sundarban trip, you should first learn about Sundarban. Sundarban, I believe, is derived from the term "Sundari," which means "beautiful." It is an island formed by the confluence of the Ganga, Brahmaputra, and Meghna rivers, which form a vast delta. Sundarban is around 10,000 square kilometres in size.
The Sundarban is the largest delta in the world, covering a total area of 10,200 square kilometres and spanning the borders of India (4,200 square kilometres of which are reserved forest) and Bangladesh (about 6000 square kilometres of Reserved Forest). The Sundarban region of India is a populous area that spans over 5,400 square kilometres and does not contain any forest.
It is situated on the northern and north-western outskirts of the mangrove forest. As a direct consequence of this, the Sundarban Biosphere Reserve in India spans a total area of 9600 square kilometres. Rivers Harinbhahga and Raimangal flow through the Indian Sundarban from west to east, while the Muriganga River flows through the Indian Sundarban from west to east. The Saptamukhi, Thakura, Malta, and Goasaba rivers are some of the other significant waterways that pass through this ecosystem.
On the other hand, this landmass is split between two neighbouring countries: India and Bangladesh. As a direct consequence of this, the Sundarbans are subject to the laws and regulations of both India and Bangladesh. In the Indian state of West Bengal, the two districts of South 24 Paragana and North 24 Paragana together have an area of around 4500 square kilometres.
Although it is known as a Mangrove forest, this area is totally covered with mangrove trees, which are home to a wide variety of other plant species. The vast majority of guests are only interested in viewing the mangrove forest. Sundarban has been developed as a tourist attraction in India by collaborative efforts between the tourism ministries of the governments of both India and West Bengal. At the moment, it is one of the tourist destinations in India that receives the greatest number of visitors.
Many wild species, wild birds, reptiles, and mammals like to live in this delta since it provides all of their basic needs because it is located in the Bay of Bengal. Royal Bengal tigers are pleased to dwell and hunt freely here because of their protection. The Indian government created Sundarban National Park as a tiger reserve with this in mind.
Crocodiles enjoy playing in rivers and swimming in them. Apart from that, because crocodiles can readily hunt in the river and on both sides of the river, their numbers are steadily rising from day to day.
Before scheduling a Sundarban vacation, make sure to inquire about these details with a Sundarban tour and travel company.
Sundarban houseboat riding:-
Overview Of Sundarban
Your trip would be finished if it weren't for the boat excursion through the Sundarbans. Your tour will be more exciting thanks to the boat ride, and you'll have the opportunity to get up and personal with nature. By renting the greatest boat in the Sundarbans, you will be able to travel to places like Sundarban National Park, Kalasdeep Camp, Burirdabri Watch Tower, Sudhanyakhali Watch Tower, Sajnekhali Bird Sanctuary, and Sajnekhali Watch Tower. You can arrange your boat excursion with Sundarban Tourism from any location in India by using a straightforward online booking process.
Sundarban is situated at the meeting point of three major rivers: the Ganga, the Brahmaputra, and the Meghna. If you want to get some experience as well as have some fun, you should go on a houseboat tour in Sundarban.
The majority of houseboats are thoughtfully crafted to satisfy the stringent safety standards of the Sundarban region. When travelling by houseboat, you have the opportunity to listen to the music of the water and witness swimming crocodiles and their hunting strategies.
If you're very fortunate, you might get sight of a Royal Bengal tiger lounging in the bay of the mangrove forest, or you might catch sight of a tiger swimming in the water. You should spend the night on a houseboat if you are an adventurous goy since houseboats stay by the riverbed and are closer to the forest at night when you can witness tigers hunting. If you are not an adventurous goy, you should not spend the night on a houseboat. You should, however, investigate the safety of the houseboat in which you plan to travel and spend the night before making your reservation.
Read More:
Bird-watching tower:-
From this vantage point, it is possible to observe the vast majority of the tigers.
A breathtaking vista of the Sundarbans may be seen from this vantage point. There are a variety of wild animals that may be seen from the lookout tower, including deer and wild boars. In the immediate vicinity is a pond that provides potable water. This is a watering hole for wild animals, thus they congregate here. A vast area of land can be found hidden behind the pond, and it is possible to spot creatures there from a distance.
Because you can get so close to the exotic birds and creatures that live here, this spot is an absolute necessity to visit during your time in the Sundarbans. Because it contains such a massive mangrove forest, Sundarban is home to an exceptionally high number of avian species from all over the world. This particular forest is home to more than 580 different species of avian life, particularly during the colder months of the year.
From the bird observation tower, you will have an excellent view of the birds and the ability to hear what they are saying to one another. In addition to that, there are a wide range of wild animals that are known to freely walk around in this forest.
Some of these animals include hyenas, wolves, and deer. The bird-watching tower is thoughtfully constructed so that visitors can take in the beauty of nature to the greatest extent that is practical. When you visit the Bird Watching Tower, you will notice that the variety of colourful birds creates an atmosphere reminiscent of a garden. This is really unbelievable.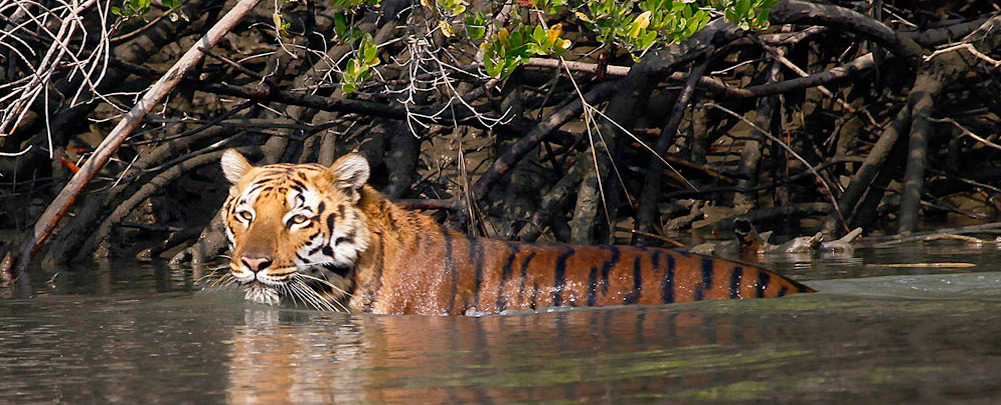 Sundarban National Park:-
Sundarban trips almost always include time spent in the Sundarban national park, which is a popular tourist destination. It is a tiger reserve in which the big cats are free to move about from one part of the reserve to another. It is a significant mangrove forest delta that has been surrounded by a ferrous wire for the purpose of providing the utmost protection.
Security professionals that are stationed here will provide excellent protection for vacationers. You can reach here by houseboat if you like. You will have the greatest possibility of spotting a Royal Bengal Tiger. You will not only have the highest chance of viewing a majestic Bengal tiger, but you will also get a feel for what it is like to move a tiger through the jungle so that it can hunt.
There is a possibility that you will witness a Royal Bengal tiger on the hunt. You will get the opportunity to go house boating as well as sightseeing while on your tour of the national park. The excursion will include both activities.
Evening Camp:-
Every traveller agrees that the evening camp is the highlight of their trip because it is put on by local artists, who showcase their talents in front of the audience comprised of tourists.
Visitors from the area typically have a better understanding of the local culture. Local folk dancing has exploded in popularity across the entirety of West Bengal. Because of this, you shouldn't skip out on this programme because it will teach you about the culture of the area.
A trip to the Sundarbans will be that much more enjoyable if you participate in this cultural activity. You should make a reservation for a fire camp in the evening if you plan on travelling during the winter months.
How can you book a Sundarban tour?
Do you take pleasure in exploring new places and gaining knowledge about the traditions of people from other countries? We want to get away from the anxiety that comes with working day-to-day and forget about the things that are bothering us. If you are searching for a thrilling and exciting experience, you should get in touch with Discover Sundarban so that they can set up your Sundarban tour packages.
The name "Sundarban" comes from a beautiful mangrove forest full of Sundari trees. The Sundarban is a delta that was created when the Ganga, Brahmaputra, and Hooghly rivers all met at the same point. It is the largest tidal delta in the entire planet. Because of this, travelling there will be an interesting experience.
There are numerous tour and travel companies that operate in the Sundarbans, and they all give their customers a selection of different vacation packages. In addition to that, they offer customised vacation packages catered to the requirements of the customers that buy from them.
As a consequence of this, prior to moving forward with the process of placing an order for a Sundarban vacation package that is suitable for your financial means, you need to ensure that you have gathered all of the pertinent information regarding tour operators and their level of expertise in this field.
I am of the opinion that you should always construct a personalised travel package to the Sundarbans due to the fact that it will fulfil all of your expectations. Making a vacation plan for the Sundarbans in advance, as well as reserving a tour package for the Sundarbans at least one month in advance, is what we suggest doing in order to get the best value possible.
We have Sundarban Tour Packages Daily Basis.
For Booking Of Best Sundarban Package (Starting from 2799/-)
Royal Sundarban Tourism
Visit: https://tinyurl.com/y6smhoup
Contact: 7439965413 / 8584838109
What's app link: https://tinyurl.com/yxtvhcs3
Email: info@royalsundarbantourism.com
Address: Sundarban. Gosaba Market Durga Mandir Road, Pin – 743370, West Bengal, India